2 Days With Martha Stewart
Nightline anchor Cynthia McFadden interviews Martha Stewart on the November 19 broadcast and phoned SheKnows exclusively to dish what Stewart said in her first television interview since her 2004 imprisonment. Not only did McFadden score the major network first interview of the domestic diva in over five years, but the news anchor was given unprecedented access to the Martha Stewart world for two entire days.
(page 2 of 2)
'Too bad the SEC wasn't looking at Bernie Madoff instead of me'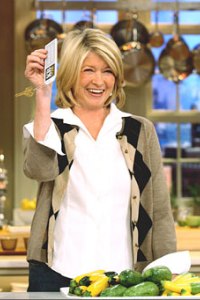 SheKnows: Also, Martha Stewart has been through the ringer on many levels. Financially, legally, what did you take away from that aspect of her life. You mentioned she was very honest with you. Did it make her stronger?
Cynthia McFadden: Its' very interesting. Martha Stewart is not a whiner. She's not a complainer. She didn't want to dwell on whether it's somebody else's fault. She also doesn't think it's her fault, I don't think. (Laughs) She said to me, "It's too bad the SEC wasn't looking at Bernie Madoff instead of me during this period?" There are many people who would agree with her about that.
SheKnows: Yes.
Cynthia McFadden: But, you know, I honestly believe that to the extent that someone can move one from an experience like that, she has. I think…she says, what rankles her is the damage it did to the company. She sees it as unnecessarily damage and to the people she employs and to the customers that she serves. And she points that readers and viewers stuck with her through all of that. It was the advertisers that walked away. That created a tremendous financial debacle at the company. She resents that. But, she's not going to dwell on it. She's going to move forward and she believes that, though the company has been hit hard by the recession, she believes her company will come back stronger than ever. After spending all that time with her (laughs), I wouldn't bet against her.
SheKnows: Not with that name and that will.
Cynthia McFadden: No…she's a force of nature. Imagine…she gets up before the roosters.
SheKnows: Laughs.
Cynthia McFadden: That's all you need to say.
McFadden: quotes from Martha Stewart interview:
"Crafts are a $32 billion industry," said Stewart. "There is no one standout brand in crafting, and we are aiming to be that brand with this amazing assortment of fantastic crafts. And I plan to be number one."
Did she ever think there was a danger that her company would go under? "Not really," she said, "'cause I'm an optimist. I knew we had a really good thing going. And I really knew that I was not guilty of anything that could possibly harm my company."
But wasn't she scared, after all the hard work she had put in to create her business empire? "Well, I was pissed. OK," Stewart said. "Pissed that something could actually affect that. The company had nothing to do with anything. But yet, because I am the face and the brand, my person -- it certainly had a -- harmful effect. When you are prosecuted in such a way, and a great portion of wealth is dissipated, all I can think, so much, is what I could've done with all of that for the good of mankind. And -- and I hope I can continue."
Read on for more TV exclusive interviews
Kelsey Grammer video interview
Sonya Wagner gets Lost on FlashForward
So You Think You Can Dance producer and head judge Nigel Lythgoe
Gilles Marini dishes Dancing with the Stars and Brothers and Sisters
Why watch Cougartown