(page 2 of 2)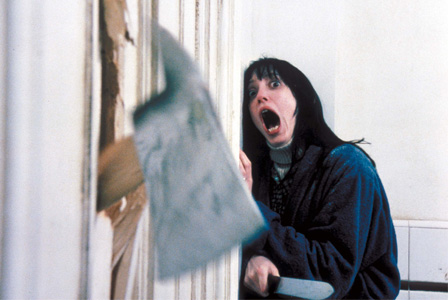 Happy Halloween from Hollywood! Horror movies have given audiences some of the most powerful female characters ever on screen from Sigourney Weaver's Ripley to Jamie Lee Curtis in Halloween.
Top scream queens
Sure, they may be "scream queens," but these Top 10 Halloween movie heroines scream because they're scared and then promptly kick their adrenaline into gear: Evil does not stand a chance.
4
Shelley Duvall in The Shining
Although Shelley Duvall's Wendy Torrance appears frail and weak, by the end of The Shining, it is Jack Nicholson's Jack who is left out in the proverbial cold.
She has protected her son and managed to survive another day after the Halloween hurricane performance of an early Jack Nicholson merely beginning his movie mastery.
3
Naomi Watts in The Ring
The Ring is the stuff of legend -- how it was shot, how the story unfolded. All of its elements added up to one scary film that easily lands in the Halloween Hall of Fame.
Naomi Watts shines in Gore Verbinski's mind-shattering melodrama that takes a nation's obsession with viral video and turns it on its horrific head. The Ring paints from a cinematic landscape that is a pure urban legend gone Halloween-horribly wrong.
2
Neve Campbell in Scream
Fun fact:
Vampire Diaries
creator Kevin Williamson is the mastermind behind the
Scream
words on page.
Director Wes Craven had already carved himself quite a niche of Halloween horrors including A Nightmare on Elm Street that featured a terrific horror movie heroine in Heather Langenkamp.
In Scream, Neve Campbell's Sidney Prescott is pure power and is the reason why the Scream franchise is a franchise. Her battles against the iconic mask stretch over three films and will return in Scream 4!
1
Jamie Lee Curtis in Halloween
Fun fact: Jamie Lee Curtis is the daughter of one of Hollywood's leading scream queens, Psycho star Janet Leigh.
Jamie Lee Curtis was iconic with her star-making turn in Halloween. Fending off her killer at every turn, Curtis set the standard for the Hollywood heroine of the Halloween horror variety.
Even three decades after Curtis ran the hallways frantically trying to escape the king of scary Halloween movie villians, her power as that character still resonates.
More horror movies
Our top 5 scariest horror movie killers
Redbox Halloween movies to get you in the spirit
Top 10 scariest horror movies