The Astro Boy Interviews
Kristen Bell and Freddie Highmore take SheKnows inside the world of Astro Boy. Astro Boy lands in theaters October 23 and its stars -- Bell and Highmore -- visited with SheKnows exclusively at the 2009 Comic Con in San Diego.
(page 2 of 2)
"He's their Mickey Mouse"
SheKnows: First of all, voicing Astro Boy is a pretty tall task.
Freddie Highmore: He's definitely a cult figure and there's a certain amount of pressure that comes with that. I think it's exciting. When I first went to Japan, you saw how much the Japanese love Astro Boy. He's their Mickey Mouse. I just wanted to bring that excitement to everyone else who perhaps haven't had the opportunity to be able to see as much Astro Boy as they should.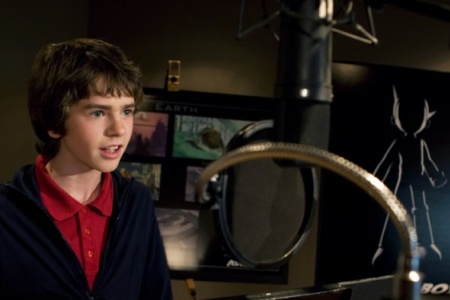 SheKnows: How much did you look over any of the older Astro Boy works that are out there?
Freddie Highmore: I always tend to try to an my own inspiration for whatever film I'm in -- in Charlie and the Chocolate Factory, I did not see the other film. I did not want to. But, with Astro Boy, I did look at it. It was different because I was only playing the voice. It did help out creatively and my movements and expressions and they were able to use that to draw Astro Boy. I think the credit is going to go to David for being able to tell everyone where everyone was going with each scene. They say that Kristen and I have great chemistry even though we never met (laughs).
SheKnows: When you first witnessed the moving, living, breathing incarnation of yourself and your voice is his, kind of a surreal moment?
Freddie Highmore: It was fantastic. Right from the start I had a basic idea of what he was going to be like. I guess a bit less than that poster there…
Highmore points to the Astro Boy movie poster hovering over us…
Freddie Highmore: It was fantastic to see him develop from sketches that are different from ones now. There was a need to bring Astro Boy up to date. At the time it came out it was so cutting edge. I think it would have been wrong to go for a retro Astro Boy. But, to keep the feeling of it was always there while creating a modern vision of Astro Boy. I think we've done that while keeping true to the source.
SheKnows: What are you up to next?
Freddie Highmore: There are a few projects out there we're excited to do, but it depends on so many factors coming together. Hopefully, I'll just carry on filming. I guess every young guy would love to play Holden in Catcher in the Rye (laughs).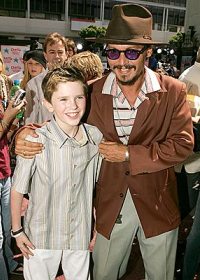 SheKnows: You obviously discovered your love of acting early, what was it that first drew you to performing in general?
Freddie Highmore: There was never anything that inspired me, I just kind of fell into it. I started off doing small parts and going to auditions. Someone sees your one line and decides to give you two. It just goes on from there. I think you need a certain amount of luck and definitely got that when I got to be in Finding Neverland and working alongside some fantastic actors. People that I was OK in that, and after that film, it became a lot easier to find other work and carry on.
SheKnows: You have chemistry with Johnny Depp. He's certainly one of our world's best actors. What did you take away from your experience alongside him?
Freddie Highmore: I think he's an incredible actor and his variation of roles is something I hope to play so many diverse characters. About him, he has time for everyone. He's the biggest star perhaps, but he's such a normal guy and down to earth. I guess for me, I would call him a real friend.
More movie interviews
Spike Jonze talks about Where the Wild Things Are
Kristen Bell and Jason Bateman dish Couples Retreat
Vince Vaughn and Malin Akerman chat