Gosselin's Loose Lips…
Since news spread that Jon was ousted from Jon and Kate Plus 8, Jon Gosselin has made a host of appearances to share his side -- but it seems he's crossed legal lines in doing so, according to TLC.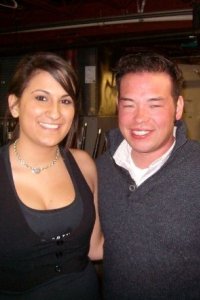 TLC has filed suit, maintaining that while Jon has stopped production of Jon & Kate Plus 8 by refusing to let the kids be taped, he's also breached his contract in terms of confidentiality and making public appearances without clearance from TLC.
Beyond having shared more behind the scenes John and Kate business than he should have, Jon has also allegedly received money in exchange for photos and his exclusive appearances on Entertainment Tonight and The Insider, which is a no no.

"The network has been trying privately and patiently for months to get Jon to honor the contract he signed and to comply with his obligations relating to public appearances and statements," TLC spokeswoman Laurie Goldberg said in a statement to ABCNews.com.
"Those efforts have been unsuccessful. The Washington, D.C., law firm of Williams & Connolly LLP has been retained to represent the network in the litigation."
Meanwhile, as mentioned, production on the re-envisioned Kate Plus 8 has been stalled. With Jon refusing to let TLC tape the kids, the network is massaging unused footage to create a few new episodes. If no agreement is made, there can be no Kate Plus 8.
In what has quickly turned into one of Hollywood's ugliest divorce sagas, there's also drama over whether or not Jon, Kate or both are hiding money from each other, not to mention whether Kate will follow up on allegations that Jon hacked into her emails and other personal accounts.
Never one to be left out, Octomom Nadya Suleman has chimed in -- to reveal she's crushing on Jon!
Don't expect some new math to turn out a new show about that pairing, however. Twenty-two kids sounds like a blast, but Jon is currently exploring his Jewish roots with girlfriend Hailey Glassman.
Read on for more Gosselin news
Jon Gosselin stealing money from kids
Jon tells TLC: don't film my kids!
Gosselin twins celebrate ninth birthday