American Must Need A Vacation…
A trip to the movies is always a chance for escapism, but a look at box office interest reveals just how badly we want to get away these days.
Last weekend, it was all about taking a trip to Zombieland, surviving the odd weather in Cloudy with a Chance of Meatballs or going 3-D with the Toy Story double feature.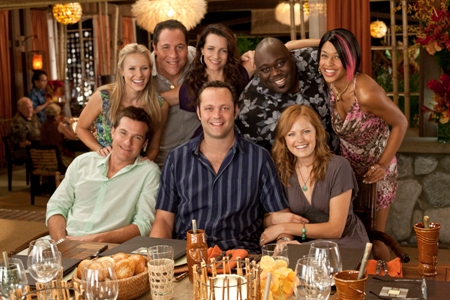 Those fantasies were still in the game this weekend, but were knocked down a peg by the disastrous vacation of Couples Retreat.
Reviews of the romantic comedy weren't inspiring, but the Vince Vaughn vehicle about a couple who takes a much needed getaway came in at number one this weekend, with $35,340,000 in sales.
Fans turned out for the likes of Jason Bateman, Jon Favreau, Faizon Love, Malin Akerman, Kristin Davis, Kristen Bel, and Jean Reno. And, with no other new releases to compete with, it even broke the Columbus Day opening weekend record -- previously held by Meet the Parents.
Zombieland, holding at a high second, is also looking to break records, but in a different category: highest-grossing zombie movie. If it can sustain its audience, it should beat out the Dawn of the Dead remake.
Cloudy with a Chance of Meatballs starring Anna Faris continues to impress at number four, with $96,251,000 in under a month, while the Toy Story-Toy Story 2 (3D) dropped to fourth.
Internet activity pays off for Paranormal
Paranormal Activity
, which promises scare-you-out-of-you-seat escapism, caught our attention last week by selling out midnight showings in a host of college towns. This weekend's wider release put the film in 160 theaters and bumped it into the top five, with ticket sales totaling $8,280,000 – that's on a $10,000 movie!
The faux documentary style horror flick, which is enjoying Blair Witch comparisons, has capitalized on Twitter and Facebook craze to build attention and is set to expand its release even further next week.
Meanwhile, Surrogates, The Invention of Lying, Whip It, Capitalism: A Love Story and Fame each dropped down a peg this week, while maintaining places in the bottom of the Top 10.
Of the small scale releases, An Education grossed $162,000 on four screens, A Serious Man grossed $447,000 on 21 screens and the Chris Rock's documentary Good Hair brought in $1.1 million on 186 screens.
Next week, box office numbers could see a shake up, with high expectations for Where the Wild Things Are and high hopes for The Stepfather and Law Abiding Citizen.
Read on for more
Vince Vaughn dishes Couples Retreat
Jason Bateman and Kristen Bell tell SheKnows about Couples Retreat
The SheKnows film review: Couples Retreat