Singing With Samantha
Singer-songwriter Samantha goes by the single moniker. Growing up in San Diego, the smart and vivacious singer was known as Samantha Stollenwerck. SheKnows caught up with this up-and-coming music superstar as her debut record, Carefree, arrives November 10.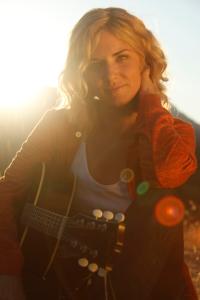 Samantha's sound is a mix of Dave Matthews meets Ziggy Marley with a dash of pop princess thrown in the mix. The singer came up through the coffee houses of San Diego and Berkeley, California where she attended UC Berkeley. Samantha lands on the SheKnows Entertainment radar as an artist to watch. Don't miss Samantha's video for her latest infectious single, Oblivious, here on SheKnows after our insightful chat!
San Diego Samantha: the singer
SheKnows: Hello Samantha!
Samantha: I see you live in San Diego, I used to live there, baby!
SheKnows: Get out!
Samantha: Torrey Pines High School all the way!
SheKnows: Oh, you're kidding. You're an LA woman now, no?
Samantha: Yeah, I live up here now. I love the beaches in San Diego though, they're just killer.
SheKnows: When did you start playing music of any kind? In high school at the famous Torrey Pines?
not so carefree: Fate steps in
Samantha: I was an athlete ranked in California in tennis. I was playing doing the whole sport thing, never really encouraged to play music. My mother was a sports fanatic. We didn't have a piano in the house, but we could always sing. When I was 16 I had an accident jumping around on the trampoline. That kind of knocked me out from doing anything going forward competitively on the tennis thing, which was a blessing in disguise. I was sitting on my butt for however long – an entire summer – so one day my mom just showed up with an acoustic guitar.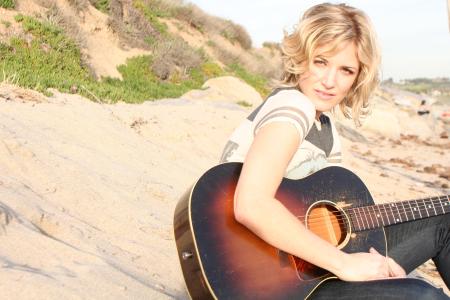 SheKnows: And the rest is history…
Samantha: I just taught myself. I immediately started writing songs all in three chords. Within a month I was playing coffee shops and stuff. That was at 16 years-old and at the time it was just for fun. I never thought it was something I wanted to pursue. It was something I liked to do to entertain myself.
SheKnows: That is a fate stepping in kind of story…
Samantha: It's incredible, at that age in high school you're conditioned to do your thing and be the best you can be and I pigeon-holed myself with sports -- that changeover from being on crutches for a while. It opened my mind and heart to everybody.
Samantha at Berkeley: the songwriter
SheKnows: When you first started putting songs together, when you did you realize that they were on to something?
Samantha: It probably happened in college. I went to UC Berkeley. It was such an awesome place to live and perform. I'd go to open mic nights and things like that. It was during that time, people saw something. I put a band together and songs were blues-rock-jams, but there was something in the lyrics and the way they were constructed that they had a pop element. You can see the beginnings of me wanting to pursue it. It's a constant challenge. And there is no rhyme or reason to it. There's not a routine. It's something that a lot of people would not want in their life. For me, it's an adventure.
SheKnows: What it is about it that makes you want to keep going?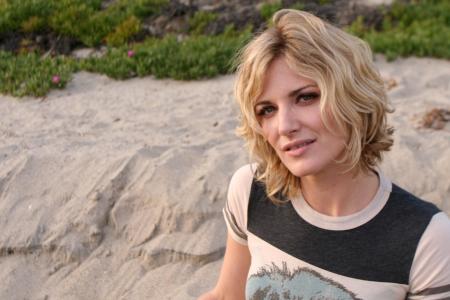 Samantha: There's something inside, this fire, there's this consummate excitement of what's on the other side of that hill. How can I see that and what can I next get inspiration from because I think it's just the search of life. That's my path -- maybe other people wouldn't choose that. I am constantly challenged and inspired by the things I see everyday. I just want to keep going.
Samantha looks to Sheryl Crow
SheKnows: On your new album, you got to work with Jeff Trott…
Samantha: He was Sheryl Crow's main co-songwriter. That's became my pinpoint. She's probably the person that I can say I most closely look to as far as inspiration.
SheKnows: I love her…
Samantha: She's the best! I have yet to meet her.
SheKnows: Oh, I interviewed her here at SheKnows last year, but you know…
Samantha: She knows!
SheKnows: Bingo!
Samantha's video for oblivious!
Read on for more
Sheryl Crow exclusive interview
Getting to know Jessica Simpson: the SheKnows interview
Mindi Abair breaks the sax glass ceiling