Remember My Name… Fame!
Move over So You Think You Can Dance, Dancing with the Stars and Glee: the remake of Fame premieres September 25 and the film is fab!
The original '80s dance-fest Fame and its spin-off TV series were the anthem of a generation, and not just for America's real life dancers, singers, actors and artists.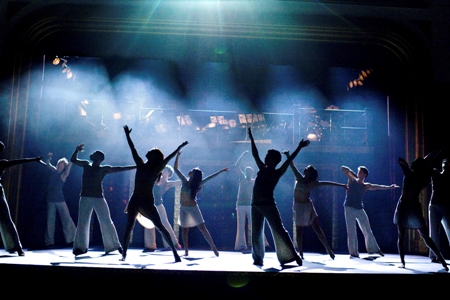 Couched in explosive song and dance routines, life at New York's High School of Performing Arts reflected the nations growing obsession with fame -- while also looking at the hard knocks of finding success as a performer and a teenager.
The school was a place where talented kids with Afros and legwarmers struggled to cross over from the wrong side of the stage and into the spotlight, in spite of social hurtles like race, sex, religion or looks.
As with the original, the "reinvention" of Fame aims to inspire a generation and follows the travails of kids trying to make it in a New York performing arts school. This, however, is a new generation, so this time around, Fame takes us to Fiorello H LaGuardia High School of Music & Art and Performing Arts, where the kids have style, and do not cuss and get down to a decidedly more hip hop sound.
Fame dance clip
Will Fame fly?
While some reviewers have slammed the new version for being too squeaky clean, viewers who love the dance and have enjoyed the spate of dance movies to flood the teen market already know what to expect: nice, clean fun with talented kids you'll want to root for.
That doesn't mean you'll recognize the kids. The young upstarts in the film are just that – young and not yet recognizable. The movie turns to bigger names for the school staff, including principle Debbie Allen, who is not playing the same tough teach as she did in the original, Kelsey Grammer, Megan Mullally, Charles S Dutton and Bebe Neuwirth.
Movie makers are clearly targeting a market of dance-crazed young girls who aren't going to get another High School Musical installment, but also have their eye on the 30-something and over set who still have fond memories of the original. We'll find out this weekend how well that's going to work for them.
For the record, the original Fame is currently ranked the 22 highest grossing dance flick since 1977. Saturday Night Fever still reigns as the top, with 1983's Flashdance and 2001's Save the Last Dance are a few million behind. Fourth place goes to Footloose, which has a remake in the works with Kenny Ortega (the man behind the HSM craze and Michael Jackson's upcoming release This is It).
Bring on the dance!
Read on for more movies
Review: Coco Before Chanel
Audrey Tautou exclusive for Coco Before Chanel
Clive Owen talks family