The Office Has A Baby …Sort Of
SheKnows wasn't going to miss a visit to Dunder Mifflin, even if it meant trekking all the way out to Scranton Business Park in Pennsylvania. Or, as SheKnows Entertainment likes to call it, Canoga Park, California
SheKnows at The Office park
Planning a wedding can drive you over the edge, and having a baby changes everything: This season, The Office finds out what happens when you do both at the same time.
Jim and Pam got the baby news at the end of last season and the little bundle of joy is due in February -- just in time for sweeps. First things first, however. The expectant parents are getting hitched.
"We pick up three weeks before the wedding," previewed Paul Lieberstein, who is both a show-runner and the actor who plays Toby. "Pam's not showing yet, and she's hoping to get through the wedding without showing."
While Pam is hustling to beat her baby bump to the aisle, it's Jim who may start showing first.
"This marriage and pregnancy affects him more than anything else in his life has," Lieberstein reflected. "Jim's cool and fun, but he's a goof off. He's not a super hard worker. He's not very ambitious. He's been very adolescent, until now. He's going to try to step up."
If you're worried The Office is about to become the Jam (Jim/Pam) Show or you're cringing at the idea of a baby at Dunder Mifflin, however, you can rest easy.
Office 2009
"Given that we're an office, people have to come to work and they're not allowed to bring their babies to work, we're still a show without a baby," Lieberstein promised. "We'll be following Jim and Pam through their marriage and first child, but we're going to try to see it in the office and watch how that affects people who work together.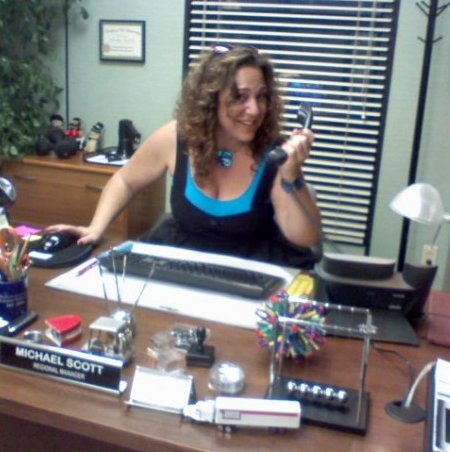 "People enjoy in-the-office stories more, when all the characters are together interacting, so we'll be staying in the office a lot more than we did last season," he continued. "After 100 episodes it's hard, but we're trying harder."
The Office big picture
Other stories on the horizon this year on The Office include a Mafia extortion sham, an office crush and Dunder Mifflin feeling the pressure of the current economic crisis in America.
"There will be some big trouble at Dunder Mifflin and some big, bad changes, as a company," Lieberstein teased. "Everyone is affected."
Particularly the man at the top, Michael. He seemed to become a bit more grounded through his relationship with Holly last season, but fans can expect him to backslide.
"We're trying to get him a little wackier," said Lieberstein and this year won't be about romance. "We've always known that Michael is great at sales, for reasons we can't explain, and terrible at managing. That is going to become a big deal in an arc that we see starting in the second episode."
Michael's mafia?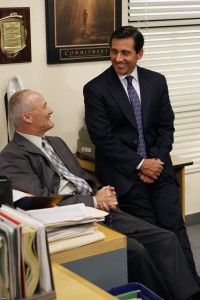 Later in the season, Michael will even fall in with the mafia! Well, not exactly.
"He's meeting with an Italian gentleman in the week after Pam and Jim get married," Lieberstein set up. "They're away on their honeymoon, and the coalition of reason is a little weak in The Office, so it comes to everyone's belief that Michael has met with the mafia and they're extorting him for insurance money."
Whatever is really going on with Michael, fans can expect Steve Carell (Michael) and team to continue to keep the character from getting too shallow to laugh at, let alone bear.
"I've been given the bullet points for what's happening this season, but it doesn't really matter," Steve Carell said. "The writers are always finding ways to make this character evolve and whatever they give me, I know it going to be fun to play. I just model him after my own shallow self!"
While Michael can expect a rough year, Andy is still crushing on receptionist Erin. We'll see that and lot more play out for him this season.
"In general, every episode we're thinking, 'What should we do with Ed (Helms, who plays Andy)?'" revealed Lieberstein. "We've just been thinking a lot about how to bring out his character."
That's not a huge surprise after the success of Helm's blockbuster hit The Hangover, but we're not complaining! The Office premieres Thursday September 17.
Recent SheKnows set visits
On the set of Bones
Visiting Vanessa Hudgens on the set of Beastly
Living with Leverage