Kayne Loses Cool
Taylor Swift was enjoying her first MTV Video Music Award moment when the always-outspoken Kanye West decided to demonstrate that he disagreed with the results. Later, Beyonce showed the highest class by handing over the microphone to Swift for her West-interrupted VMA acceptance speech.
(page 2 of 2)
Beyonce boogies
Once the New Moon mania calmed, Beyonce took the stage with an interesting take on Single Ladies. Interesting is a kind word to describe the dancing-while-a-recording-of-Beyonce-plays-the-song performance.
Performance-wise, the next band took the VMA award for best performance of the night. Muse rocked a theater near Radio City Music Hall where a packed crowd sang along with every word of Uprising.
Muse's masterful Uprising at the VMAs
Pink went Sober hanging above the crowd and then New Yorks finest jammed to close the show as no one else could. Jay-Z and Alicia Keys jammed New York that had the entire Radio City crowd spellbound and screaming.
VMA winners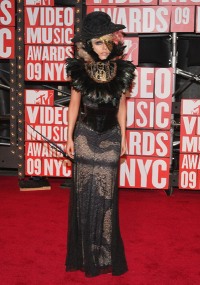 Best New Artist: Lady Gaga, Poker Face
Best Hip-Hop Video: Eminem, We Made You
Best Male Video: TI featuring Rihanna, Live Your Life
Best Pop Video: Britney Spears, Womanizer
Best Rock Video: Green Day, 21 Guns
Best Female Video: Taylor Swift, You Belong With Me
Best Video (That Should Have Won a Moonman): Beastie Boys, Sabotage
Breakthrough Video: Matt and Kim, Lessons Learned
Best Art Direction: Lady Gaga, Paparazzi
Best Choreography: Beyonce, Single Ladies
Best Cinematography: Green Day, 21 Guns
Best Direction: Green Day, 21 Guns
Best Editing: Beyonce, Single Ladies
Best Special Effects: Lady Gaga, Paparazzi
Video of the Year: Beyonce, Single Ladies
More music
The Beatles: Rock Band deubts
Top 25 solo singers of all-time
Rob Thomas answers your questions
VMAs: the full nominees