Fall Films: Quality & Quantity
From Jennifer Aniston discovering Love Happens, Megan Fox inhabiting Megan's Body to the highly anticipated remake of Fame -- 2009 fall films look fabulous in September. Plus, SheKnows has an exclusive trailer for Jane Campion's Bright Star!
(page 2 of 5)
September 9
9
Stars: Jennifer Connelly, Elijah Wood, Christopher Plummer, Martin Landau, John C Reilla, Crispin Glover
What it's about: The world's machines have turned on mankind. That is where the similarity with Terminator begins and ends. In 9, humans responded with protest before the entire population is destroyed. In the last moments of human civilization, a scientist created several machines set to band together and rid the world of evil.
SheKnows movie fact: 9 was originally a short film from director Shane Acker.
9 trailer:
September 11
Whiteout
Stars: Kate Beckinsale, Gabriel Macht, Columbus Short, Tom Skerritt
What it's about: For U.S. Marshal Carrie Stetko (Beckinsale), things are about to get even more dangerous. The only law enforcement in this unforgiving territory, she has just been sent to investigate a body on the ice -- Antarctica's first homicide. A shocking discovery in itself, it will plunge her into an even more bizarre mystery and the revelation of secrets long-buried under the endless ice...secrets that someone believes are still worth killing for. As Stetko races to find the killer before he finds her, winter is already closing in. In the deadly Antarctic whiteout, she won't see him till he's a breath away.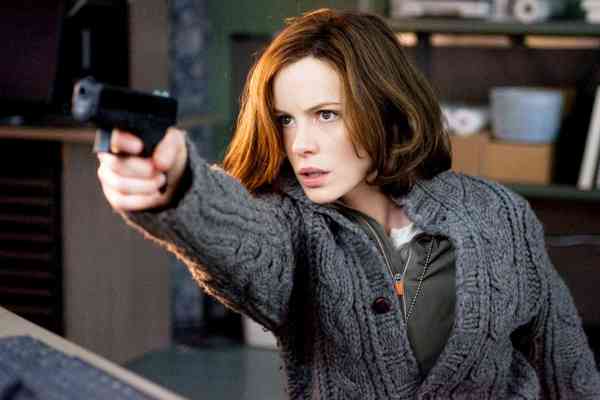 SheKnows movie fact: In the early September heat, Whiteout is the perfect icy getaway. Whiteout is also based on the graphic novel by Greg Rucka and Steve Lieber and produced by Joel Silver and Susan Downey (the pair behind December's Sherlock Holmes).
The September Issue
Stars: Anna Wintour
What it's about: RJ Cutler spent an entire year with Vogue editor and icon Anna Wintour. Every inch of blood, sweat and tears that make up Vogue's September issue is on the screen. No one has captured Anna Wintour's world as has Cutler.
SheKnows movie fact: We interviewed director Cutler as he shares his exclusive insight - only on SheKnows.
I Can Do Bad All by Myself
Stars: Tyler Perry, Taraji P Henson, Brian White, Kwesi Nii-Lante Boakye
What it's about: When Madea, America's favorite pistol-packing grandma, catches sixteen-year-old Jennifer and her two younger brothers looting her home, she decides to take matters into her own hands and delivers the young delinquents to the only relative they have: their aunt April. A heavy-drinking nightclub singer who lives off of Raymond, her married boyfriend, April wants nothing to do with the kids. But her attitude begins to change when Sandino, a handsome Mexican immigrant looking for work, moves into April's basement room. Making amends for his own troubled past, Sandino challenges April to open her heart.
SheKnows movie fact: I Can Do Bad All by Myself features musical stars performing live on screen including Gladys Knight, Mary J Blige and Marvin Winans performing a song by Ne-Yo.
Sorority Row
Stars: Rumer Willis, Audrina Patridge
What it's about: When five sorority girls inadvertently cause the murder of one of their sisters in a prank gone wrong, they agree to keep the matter to themselves and never speak of it again, so they can get on with their lives.
This proves easier said than done, when after graduation a mysterious killer goes after the five of them and anyone who knows their secret...
SheKnows movie fact: This is the first starring vehicle for Rumer Willis - the eldest daughter of Bruce Willis and Demi Moore.
The Other Man
Stars: Liam Neeson, Antonio Banderas, Laura Linney
What it's about: Secrets lie at the heart of The Other Man, a thriller that should prove to have a fabulous cat and mouse in Neeson and Banderas. Layered secrets and frequent cases of the truth not completely being the truth have its male stars and co-star Laura Linney gasping for answers.
SheKnows movie fact: The Reader spun box office - and Oscar - gold. Interestingly, and the book's writer, Bernhard Schlink, penned The Other Man as a short story.
Beyond a Reasonable Doubt
Stars: Michael Douglas, Amber Tamblyn, Jesse Metcalfe, Joel David Moore
What it's about: Douglas is a lawyer who may not be on the up-and-up. He's running for governor and a young reporter may have a few secrets he must answer for first.
SheKnows movie fact: Michael Douglas has largely played supporting roles of late and it's nice to see him back atop the marquee.
Up next… Jennifer Aniston and Aaron Eckhart discover that Love Happens, Matt Damon is The Informant and Jane Campion finds a Bright Star.
More From SheKnows Explorer