Butler & Heigl Q&A
The Ugly Truth asks: are you gorgeous and smart? Do you hold a high-powered job? Or are you one hot soccer mom who wouldn't be caught dead in "mom-jeans?" Maybe you're a student or a hard-working combo of all these and more. Whatever age or employment level, at some point, all women have asked themselves, 'Will he call? Should I call him? Is he into me at all? Do men really have only one thing on their minds 24/7?'
(page 3 of 2)
Truth and lies
SheKnows: Katherine, you've been in several PG-13 comedies. How do you feel about the R-rating for this one?
Katherine Heigl: I'm a 30-year-old woman and, as much as I love that younger audience and I love those kind of movies, and I loved 27 Dresses and had a great time making it, I still feel like I want to tell a real story to people my age and to my generation. We throw 'f**k' around a lot, so when you have to censor so much for that PG-13 rating, it starts to get a little cute and it starts to feel a little fantasy. In this movie, they do end up together and it doesn't feel like the fantasy. It felt like real life. It felt like two people, who actually were really sexually attracted to one another, and then, ultimately, emotionally attracted to one another. They came together in a grown up world and not the cartoon version. There was just something about this and the ability to be crass, and drop the F-bomb on occasion that felt real to me. It felt like the world I actually live in, with my friends and my family. Maybe that sounds bad.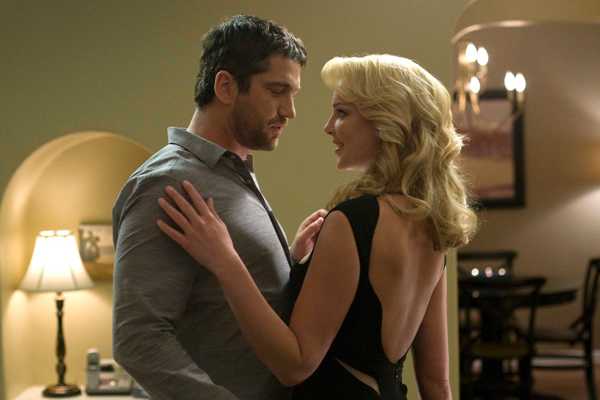 SheKnows: What works? Should women call again, if the man doesn't call us back?
Katherine Heigl: No.
Gerard Butler: No.
Katherine Heigl: Would you want a woman to call you, not once, but twice, if you haven't returned a phone call?
Gerard Butler: Yeah! I'm busy.
Katherine Heigl: Exactly why you should not call him back!
Gerard Butler: This is why I'm single!
Katherine Heigl: (being Gerry) 'I'm so busy! Call me six times and maybe I'll get back to you.'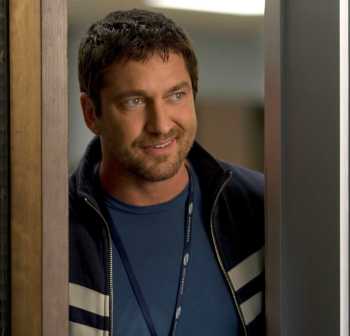 Gerard Butler: Listen, this is why it's called The Ugly Truth. There is an element of truth, in that the second that you think the girl is maybe not quite as keen, there is a little more, 'Okay'! Sometimes, when it's there right in front of you, it's not as interesting. Is that right?
Katherine Heigl: It's true. It's true for women too though, isn't it? If you have a guy who is relentless and obviously so into it, and a puppy dog at your feet, then it's not as sexy and interesting as the guy who plays it a little cool. I talk to Josh about this all the time. The next day (after a first date?) I waited until three o'clock, but I didn't wait for him to call me. I waited until three and I went, 'Screw it, I'm going to call him.' I called and invited him out to a friend's barbeque. He showed up and we had a great time, and it was on from there.
SheKnows: So he started calling you?
Katherine Heigl: But, he played it really cool. It was at least a couple of months before and I was like, 'Does this guy like me as much as I like him?' It was very disconcerting, but it was intriguing, and I was so into it! He says now, and I think he's lying, that he was not trying to play it cool, that that was just how he was. I was like, 'Bullshit! You are not like that!' That was an act, but it worked so great. It was so mysterious and intriguing. And, I had to really fight for him to like me as much as I liked him. Again, there is a fine line between honest and desperate.
SheKnows: But does the honesty thing work?
Katherine Heigl: You can be honest with someone about your intentions, and how you feel about them, and you can get the, 'Thank you," and that's awful. Or, you can be honest and they reciprocate. Sometimes, it's just about risking it. What I loved about this movie is that Abby is really dorky, but I think that is what Mike really loved about her. She wasn't the Jell-O twins. She wasn't a perfect package of sex appeal. She did all the wrong things, but they were charming. That was who she is, and that's who Mike falls in love with.
Guy versus Girl thinking per Gerard
Gerard Butler: I thought it was interesting, the difference between the ways a guy thinks and a girl thinks, at times. When Katherine Heigl said, 'I waited till three o'clock to call him back,' I thought she was going to say, 'I waited until three o'clock before I got out of bed with him.'
Katherine Heigl: Nice. Oh, God.
Gerard Butler: That's The Ugly Truth.
SheKnows: So, Katherine, you have a scene in the film this is sort of an update of the Meg Ryan, fake an orgasm scene in When Harry Met Sally. How fun or how difficult was that for you?
Katherine Heigl: Oh, my God, it was a nightmare. And, let me tell you, ladies, these were fake orgasms, but it was really just physically exhausting. It's so much physical movement, with the legs dancing under the table and all the tensing up of the body and, by the end of the day, I felt like I had done a marathon. I thought I had run 20 miles. Then, I went, 'Okay, now I get why it's called physical comedy'. No one wants to orgasm 35 times.
Gerard Butler: I have to say, no matter how well this movie does, that scene is going to go down in the annals of history in comedies because it's a classic scene. I don't know many people who don't love it. It's one of the most brilliant performances I've ever seen. Katherine was so, dare I say, 'bang on'. It was incredible. It was amazing, just perfection.
Katherine on married life
SheKnows: Katherine, you are married now. So what are the rules for you and Josh?
Katherine Heigl: I'm not very good at being a wife because I break all the rules. So does Josh, though, so whatever. At the end of the day, Josh is one of my all time favorite people. He's just such an awesome guy, and it's not a lot of work. There is always work and compromise, and stupid moments, like, 'Really? You can't put your Coke can in the trash? Really?' That will always exist, but I think the most important thing we've learned in the last year and a half is that this person is always on my side. Even when we fight and it's rough, and we're tired and pissy with each other, this person is always on my side, and I'm always on his side. That is the one thing I think you cannot mess with. Even with all those under-handed, snarky little comments, and all the resentment that bursts at times, you have to remember that you're a team. There's nothing more valuable, in this world, than having that partner, and having that person on your side, because it gets kind of lonely, scary and weird out there. And, I love being able to go home to him.
SheKnows: So, what is the key to happiness?
Katherine Heigl: Oh, I don't know. Vodka? Yeah, that works.
Gerard Butler: One of those vibrators Katherine uses in the movie.
Katherine Heigl: No, that thing was crap! (we are trying not to die laughing at this point).
Gerard Butler: I find it funny, as actors, when suddenly you play a role and everyone asks, 'What is your secret to a relationship? What's your secret to happiness?' I want to go, 'I don't f**king know. I'm not Dr. Ruth. I have no idea.'
SheKnows: With an R rating, why didn't you go even further with the content?
Katherine Heigl: You're saying there were no boobies?
Gerard Butler: I don't think you needed it. I think you had it in the language. The ideas and the values are so clever and controversial, unexpected, surprising and hard-hitting. You don't need to see tits. It's not necessary. The rest would have been gratuitous.

SheKnows: Your character goes on the Craig Ferguson show in the film What's the challenge of working with him and maintaining your American accent?
Gerard Butler: I love Craig, but trying to keep my American accent was a nightmare. I'm always on his show, and he plays my best friend in a DreamWorks movie I'm doing now, called How to Train your Dragon. Normally, that would sound way more innocent than it sounds during this interview (we laugh). It's a DreamWorks animated movie for kids. He plays Gobber. Anyway, there's nothing worse than being a Scots guy with an American accent. I remember once, years ago, going back to Scotland, after spending a summer here and nobody could understand a word I was saying. I remember being in this bar and speaking to this guy and he went, 'You're a f**king Yankee. What the f**k is that?" That's very much the Scot's attitude. I was home recently and I said 'soccer' instead of 'football'. They will crucify you for that.
Heigl dishes Grey's
SheKnows: Let's talk other projects. Katherine, what's it like to be back on 'Grey's'?
Katherine Heigl: I'm actually really mad at them right now because they worked me on Wednesday for 17 hours, and I thought that was mean. I think we should all boycott 'Grey's Anatomy'.
Gerard Butler: Don't say that! It doesn't work in print, remember?
Katherine Heigl: Oh, s**t! I was joking! It's exciting to be back because I've missed my friends, and it is really fun to see everybody. It's such a strange thing. It's been two months, but it doesn't feel like any time has passed at all because you're right back in the same set, with same wardrobe and the same people. It feels like maybe you haven't seen each other for the weekend, aside from Ellen Pompeo's growing belly. The last time I saw her, it was just a tiny bump and now she's got a basketball, and it's weird. Other than that, nothing has changed and it's wonderful, except for the absence of TR Knight. That was really actually very strange and really hard, because TR provided so much fun, joy and levity for me and everyone else. We had to do a scene about George's death and Justin Chambers kept saying, 'I just keep imagining TR on Broadway while we're mourning the character's death.' Then we all sort of went, 'Yeah, that's hilarious. No, that's really sad. He would be laughing really hard now too, and he's not here to laugh with us.' So, it's a little strange, in that regard, but other than that, it's good to be back with my friends and my family.
Gerard's Gamer
SheKnows: Gerard, can you talk about Gamer?
Gerard Butler: It's an action thriller, set 10 or 15 years in the future. It's probably based on the idea of a world of Gladiators, where there is a world of gamers. They are now taking on a global dimension. The avatars they play are in more of an organic process. Nanotechnology in the future can control humans within the game. I play a prisoner on death row in a game called 'Slayers'. He's almost made it through to the end, and he would be the first person ever to do that. It's like 'We don't even need war anymore, let's just watch on television, and watch people blow the shit out of each other.' It's fun for gamers, but at the same time, it's a bit of a comment on the lowering standards of morality that we have in society with the onslaught of technology and entertainment. It's awesome. It's very entertaining. It comes out in September.
Katherine Heigl: Is it depressing though? This is where society is going?
Gerard Butler: I don't think it is depressing. It's actually a fun and entertaining film. It's very violent. It won't be for every woman, but a lot of women I know have seen it and loved it because it's got a lot of guy juice. It's got that 300 thing going on, and a lot of women like 300. But, at the same time, it makes 300 look like a picnic, in terms of its violence. But, it's surprisingly brave. It's a beautifully painted, dark world that we've gone into. I don't think that anybody will have ever seen anything like it before.

SheKnows: Aren't you also in a comedy with Jennifer Aniston?
Gerard Butler: Yeah. Bounty. I play an ex-cop turned bounty hunter who is given the task of going to arrest and bring in Jennifer Aniston who is a journalist on the run. What is lethally joyful to me is that she's my ex-wife, I hate her and I can't think of anything else better in the world than to bring her ass back to jail. She's doing everything in her power to escape my grasp and get on to this case about police corruption that she's trying to solve. So she's trying to bring me into that and meanwhile escape and all I want to do is stick her in jail. It's so much fun. She's incredible and I'm having a blast.
SheKnows: Katherine, don't you get to do some action in an upcoming film Five Killers?
Katherine Heigl: What is tragic is that Gerry looks awesome as an action person. I look like a moron. That is good because, in this particular movie. I'm not supposed to be good at it, but even when I wasn't trying to look dumb, I look dumb. I will never be an action star, that's for sure.
Gerard Butler: That's good, because I look like a moron in this movie, so it's perfect.
Katherine Heigl: No, he doesn't. He's a genius.
Recent movie interviews
The cast of Harry Potter and the Half-Blood Prince
Cameron Diaz and the cast of My Sister's Keeper
Hayden Panettiere on I Love You, Beth Cooper