On The Set: Hayden Panettiere
High school senior Beth Cooper won't save the world, but she is a cheerleader just like Hayden Panettiere's Heroes character. On July 10, audiences can catch Hayden in the fun, heartfelt comedy I Love You Beth Cooper, based upon a whimsical book by Larry Doyle.
(page 2 of 2)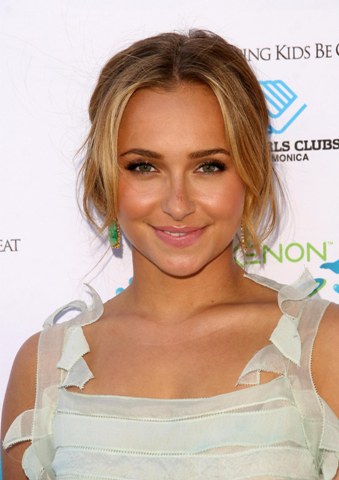 Panettiere on 'what is perfect?'
SheKnows: There is so much pressure on young female stars like yourself to look or be "perfect". How do you handle that?
Hayden Panettiere: I can't tell you how many times I've thanked God and my parents for raising me in a place that was so humbling and so outside any of that stuff. I mean I live criticism every day. I'd go walk my dogs and I used to walk them in my PJ's and now I have to make sure I look half decent or else I'll get trashed. Or like having cellulite on the back of your legs. 'I'm sorry, I'm a woman. I don't know what you want me to tell you' (we laugh). 'I'm sorry. It's not going to go away. I can't do anything about it. I apologize if I offended you'.
SheKnows: Cellulite, the equal opportunity curse! But, you seem to be surviving the pressure...
Hayden Panettiere: I think I came into it when Paris and Lindsay and all these girls were at their height of what they were doing and I would say it's guilty by association. If you are a young female in Hollywood, you are guilty of everything that people say. People feel that they have a right to judge you and they haven't even had a conversation with you and it's scary. I have a body that girls can look at and go, 'oh she's not anorexically skinny. She looks healthy and she's got cellulite, yeah!'
SheKnows: (by now we're thinking about our own cellulite. Thank God we're wearing long pants). Does this "role model" label drive you nuts then?
Hayden Panettiere: I think the only problem with attempting to be a role model is the fact that you just want to go, 'okay, I'll be a role model for you. I'd love to, but don't expect me to be perfect because I'm not and I do screw up and I do make mistakes and I can't always think of everyone else and what they're going to say'. Because at the end of the day the only person you can make happy is yourself. No matter whether it's wrong or right or looks good or looks bad, somebody will hate it. Somebody will.
Cooper's rocking cast
SheKnows: This cast is very young and dynamic (Lauren Storm, Lauren London, Jack Carpenter, Paul Rust). Working up here in Vancouver, have you had a chance to bond with anybody and hang out off-set and do anything fun?
Hayden Panettiere: We spend so much time together. It's really interesting because everyone has a very different personality. I've learned that it's very interesting to be around people who look at things very differently than you or have different opinions than you and you learn a lot from people like that. So it's great.
SheKnows: I hear a lot of Rock Band rivalry is going on off-set...right?
Hayden Panettiere: We do have Rock Band. Yes, we do. Everyone's in a hotel and I decided, stupidly, to stay in this other apartment because it was a great apartment. But every time I walk up and down the hotel hallways, I always walk past Jack's room and I can hear him down the hall playing Rock Band so I go purposely bang on the door in the middle of a song, but yeah, Chris even has Rock Band. We tried to convince him to try to tell him he should bring it to set and set it up. I do nothing but sing on it. Don't even ask me to like do any coordination like ugh, I've tried 'Guitar Hero'. I'll stick to the singing.
SheKnows: Did you read the Beth Cooper book before shooting?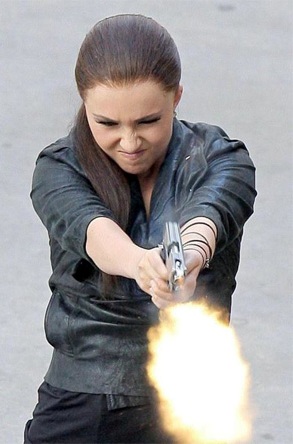 Hayden Panettiere: Yeah, we all got sent the book in the beginning and it was actually an interesting story coming across this because I was pitching another film called Naomi & Eli's No Kiss List, which is also a book. It's by the same author as Nick & Nora's Infinite Playlist. They said 'well, we'll do this film if you do Beth Cooper and I read it and it's great. It's actually come a long way. Chris decided to direct it and that was really exciting.
SheKnows: You've been very passionate about whales and wildlife and this is Vancouver. So, have you been able to enjoy any of the local sea animals?
Hayden Panettiere: Actually the only thing I've done because we've worked so often is I've spent quite a lot of time at the Vancouver Aquarium, where all of their dolphins have been rescued. A lot of them are actually rescued from out of fishing nets in like Japan. So that was home for me and I was there with Jack Coleman who plays my dad on Heroes. He and his family were in town and they were like, 'We're at the aquarium', so I went and met him there and somebody came up to me and was like, 'you want a back tour? We know what you do (for animals)'.
SheKnows: How cool was that? Did you see them up close?
Hayden Panettiere: Yeah. With the dolphins, they actually let me go down and play with them and this one sea lion, she's huge. She's probably 1,000 pounds and she got on my lap with both of her front paws and she wrapped her head around mine, around my neck so her head was like this [indicates wrapped around her] and her body was…well, she was huge! But it was the most incredible experience. I've spent quite a lot of time there. I did take a trip a while ago to Alaska to see the Orcas and that was real exciting.
Read on for more
Heroes executive producer Kay Foster exclusive interviewSteal the look: Hayden Panettiere
Hayden Panettiere saves the whales again