Robert Pattinson Wins Twice
Twlight was the big winner at the 2009 MTV Movie Awards. SheKnows reports from the Gibson Amphitheatre with the winners and show highlights.
Red Carpet
Don't miss our full report from the show's red carpet here!
For one, the 360-degree-red-carpet was awesome to see in its natural form before coming to life on screen during the show.
The gathered paparazzi wish they had as many cameras as MTV had chronicling the celebrities' arrivals in their 360-degree zone.
MTV Movie Award astounding moments
Andy Samberg as host was an uneven performance that still scored as a winner because of his natural affability and uncanny comic timing.
Of particular thrill was his MTV Movie Awards introduction finding him causing a stink in Edward's classroom in the Twilight universe.
Also, his tribute to the action heroes who walk away from explosions was a priceless piece of television.
For every moment that he stumbled, those classic Samberg gags were worth their weight in gold.
Shia LaBeouf presents Cam Gigandel and Robert Pattinson the award for Best Fight. This is a moment of note for two reasons.
One, because of its beginning of MTV's Twilight love affair that would permeate the MTV Movie Awards and two, the response Shia LaBeouf's introduction garnered. This man is a movie star in the highest order!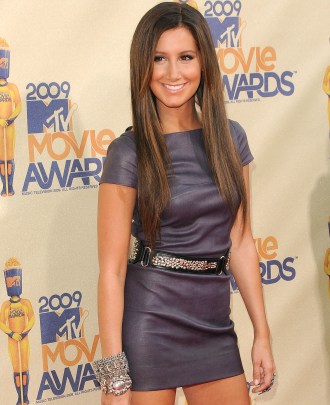 Breakthrough Female performance was an upset as Ashley Tisdale took the award over fellow High School Musical 3 star Vanessa Hudgens.
Eminem: where to start? First of all, his performance was all that anyone could ask. Then his stellar first live show on MTV in four years was rewarded by Sasha Baron Cohen careening into him in the most unflattering way.
Cohen entered the Gibson Amphitheater from the ceiling as his Bruno character. Bruno lands in theaters in July and Cohen is never one to shy away from a stunt...but Eminem? Did you think there was anyone else here in this hall of thousands to plant your rear end?
Is this how MTV thanks a hip-hop legend's return? SheKnows is still exploring the real deal behind this scene that stole the MTV Movie Awards.
Zac Efron wins the award for Best Supporting Actor. Just kidding, but seriously, when Efron accepted his Best Male Performance Award, he solidified his position in Hollywood as the Tom Cruise of the future. Efron's effortless ability to draw the audience's attention away from Eminem dealing with Sasha Baron Cohen's exterior to his well-spoken award speech was priceless.
Sneak Peaks:
Transformers: Simply, awesome. Not a fan, but I am now.
Twilight: New Moon: Knowing the passage from New Moon well, showcasing Bella's realization that Jacob is more than he seems was a perfect introduction to chapter two in the Twilight film series.
Harry Potter: The Half-Blood Prince: a window in the world of Harry Potter left a little to be desired. But, then again, is that not what you want from a preview!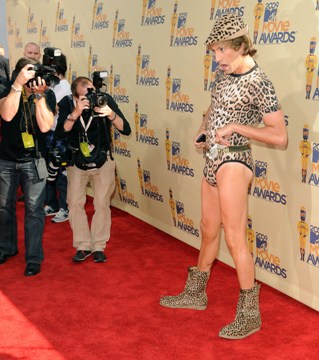 Universal Studios preview: This is the studio to beat this summer. From Land of the Lost to Public Enemies and Bruno – it seems in summer 2009, Universal of universal.
The MTV Movie Awards winners
Breakthrough Female Performance: Ashley Tisdale, High School Musical 3
Best Fight: Robert Pattinson, Came Gigandel for Twilight
Breakthrough Male Performance: Robert Pattinson, Twilight
Best Male Performance: Zac Effron, High School Musical 3
Best Kiss: Robert Pattinson and Kristen Stewart, Twilight
WTF: Amy Poehler, Baby Mama
Best Song from a Movie: Miley Cyrus, The Climb
Generation Award: Ben Stiller
Best Female Performance: Kristen Stewart, Twilight
Best Comedic Performance: Jim Carrey, Yes, Man
Best Movie: Twilight