Kyra Q&A
Kyra Sedgwick is The Closer. As the star enters her fifth season solving the seemingly unsolvable crimes of Los Angeles, Sedgwick pauses to speak about the show's phenomenal success, The Closer's June 8 premiere and how she balances fame and family.
(page 2 of 2)
The balancing act
SheKnows: Balancing home and a hit show: Is it a challenge -- or do you and Kevin have it down?
Kyra Sedgwick: Oh, you know, I think that it's always probably a struggle for people who work and have a family life. It's always a struggle to fit everything in -- to balance, to give something to both. To give as much attention as each thing needs, I definitely think it's probably hard for everybody. It's not easy, especially when you're 3,000 miles away.
SheKnows: Each The Closer season has a theme. What is this year's?
Kyra Sedgwick: This year's theme is change, and I think the most obvious change is Brenda being married. There've been some shifts in the squad. And then, in the first few episodes, the cat is unwell. I think that that's a change that she doesn't want to have to deal with -- the idea of life without her cat, who in some ways is sort of her independent self. You know, I think the cat is the thing that she had before she got married. I remember, when I first met him, Kevin had a dog; Jane was with us for years and years. I think that when she finally passed, it was a very big deal because she was sort of the thing he had before I came along. It was the thing that defined him before marriage and children, and I think that's a very big deal. And yes, Brenda's got to deal with some issues that come up this year that she hasn't had to deal with before. I don't think she likes it too much. I think change is hard for everybody.
SheKnows: What's next for Brenda, romance-wise? She and Fritz just got married.
Kyra Sedgwick: Well, the inevitable next step to marriage is having children and I think that that's a struggle for the two of them. I think it's hard for Brenda, who doesn't see the world as a benevolent, loving place. I think she sees a lot of the darkness of the human soul and a lot of people who behave badly. It's hard for someone like that to believe that the world is a loving, safe place to bring a child into -- so I think that is a struggle for her and for him.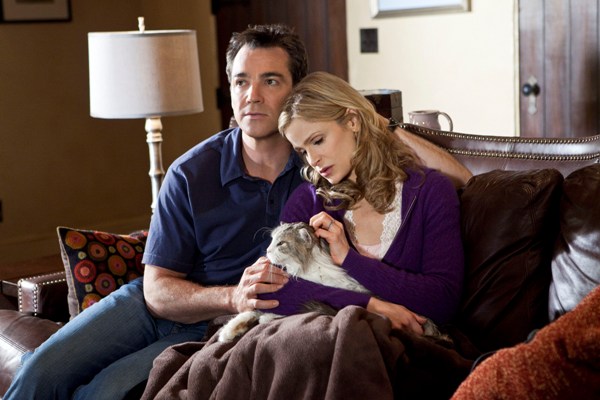 Closer as dramatic anchor
SheKnows: Lastly, is any pressure on The Closer to maintain an audience -- so to speak? In some ways, it seems like the quality drama at Turner has been built off of your success. TNT's drama is anchored around you -- do you guys feel any of that pressure on the set?
Kyra Sedgwick: Oh, God, I could never take that on. I take on so much crap, I don't need to take that on! That would be way too much. I mean, I take on personal stuff. That sounds very corporate and difficult -- I can't go there. I am thrilled that we can usher in a show and give it a good lead-in and some legs. That feels really good to me as a performer as well as a businessperson. It's show business, and the fact that the show continues to do well and can be a good lead-in for a new show to get some traction, is good for me as a performer as well as a person in this business.