Bye-Bye Carrie Prejean
Miss California update! California state pageant officials have had it with Miss California Carrie Prejean and want her to resign.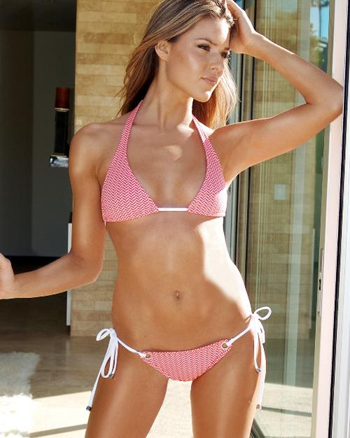 Since Prejean's controversial pageant interview answer in which she pushed her own anti-gay marriage agenda -- probably costing her the Miss USA crown -- Prejean has spent the majority of her time campaigning against gay rights for the group National Organization for Marriage. We can only imagine how Ellen and Portia feel!And that, according to pageant officials, simply will not fly. Carrie is still Miss California USA, but right now she is not acting in the capacity of Miss California USA. She is acting as Carrie Prejean and working on things that are important to Carrie Prejean," says Miss California Co-Director Keith Lewis.Case in point? Prejean skipped out on an important PSA video shoot titled I Believe...The Beauty of California, a campaign highlighting the state's social and ethnic diversity. Eight other former and current beauty queens cleared their schedules to be a part of the shoot.The PSA, expected to hit the web next week, includes such lines as "I believe when I express my opinion I have a responsibility to do it in a way that respects others who may not agree...I believe in love...I believe when two people with opposite views communicate with love and respect both points of view can be heard...I believe no one should be silenced if they are speaking from their heart with respect...I believe in the beauty of California.""We reached out; we tried to get her to be here. Unfortunately her schedule wasn't permitting with her new outreach programs she was involved with today with some PR stuff she was doing," Lewis says.A rep for Prejean said she had a "prior personal commitment otherwise she would have been glad to participate."That "prior personal commitment" may have something to do with coming up with excuses for the panty pictures popping up online showing a topless Prejean wearing nothing more than her skivvies flirtily looking over her shoulder.Prejean claims she was 17 when the shots were taken and was naively deceived by a photographer who said he could make her the next Victoria's Secret model. Of course, she also said the first photo released was the only one in existence; since then a second has surfaced with rumors of other, more graphic snapshots to come.Why such a big deal over some underwear pics? After all, Prejean is a model, and models take such shots on a regular basis. The problem is that all contestants must sign an affidavit stating they have never posed in nude or suggestive photos. What is currently up for debate is how suggestive these photos are -- arguably the bikini contestants must wear during the pageant reveals more skin than Prejean did in the snapshots.Should Prejean step down from her post? Many have the opinion of "shape up or ship out" and are tired of Prejean pushing her personal agenda over that of the pageant, to whom she is contracted."I think it's awesome that she's found something that she's very passionate about and found this voice, but if she wants to pursue that and emphasize those opinions she should do it as Carrie not as Miss California so therefore I do think she should step down," Miss USA 2004 Shandi Finnessey says. "But I actually think it's sad you turn on the TV and everyone is so concerned about a beauty queen and whether or not she will lose her title. But I understand it's important because she now is Miss California USA and she has to represent that title and not necessarily herself."
Read on for more celebrity news
Paula Abdul admits painkiller addiction
Affair denied on Jon and Kate Plus Eight
Sarah Jessica Parker expecting twins through surrogate mom