Exclusive Hough Interview!
Not many know Julianne Hough spent eight years in London. The Dancing with the Stars two-time champion and current hit country singer credits that time with providing her the discipline needed to succeed in entertainment at an early age. "Going over there at 10 years old, I wasn't with my mom or my dad. I lived with a family out there and my brother Derek also lived there. It was pretty intense," Hough says.
(page 2 of 2)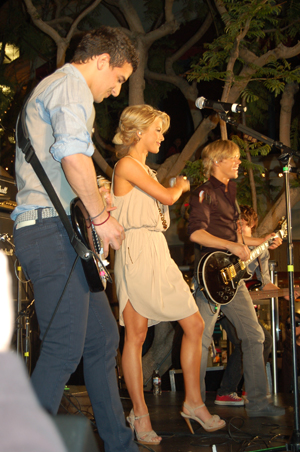 Country calls
SheKnows: Was it always country music for you? I know growing up in England you could have come out a '80s or '90s pop fiend.Julianne Hough: Yes (laughs), you know it's funny. When I did live in London, I was in a pop group with my brother Derek and Mark Ballas who's also on Dancing with the Stars. We were in this bubblegum pop group when I was 12-years-old. It was the cheesiest music and lyrics. We were dancing and singing at the same time with those wireless microphones on our head. So bad, and we were all so miserable. I wanted to sing country and my brother and Mark wanted to sing alternative rock. We were totally doing this against our will (laughs).Pretends to cry.

Julianne Hough: (continuing) I don't want to do this. If I stay here I won't pursue dancing and I'll be stuck in this God-awful band.SheKnows: (Laughing) That will send you to LA…Julianne Hough: It did. I've always wanted to sing country music. I grew up listening to country music. I have three older sisters and they were all into country music. One of my sisters even moved to Nashville to write and make it as a singer too. It definitely it's been in my family. We love country music.SheKnows: You mentioned Dancing with the Stars having devoted fans. I mean, there are music fans, and then there are country music fans.Julianne Hough: (Laughs) Oh, yeah. What's funny is the Dancing with the Stars fan base is very similar to the country music fan base. It's the everyday mom and dad family that you know want to enjoy good entertainment with their family and that's the same thing with country music fans. They want to see good entertainment and still be able to hang out with their family at the same time. It's very similar, very loyal.
A female role model?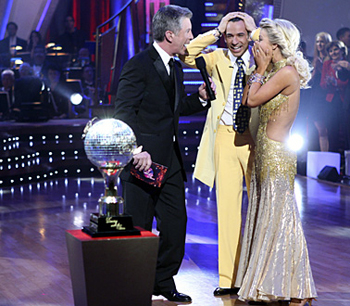 SheKnows: Many of your songs have some great messages for women. You're strong, successful and exemplify the modern woman who zeroes in on what she wants and strives for accepting nothing less than the dream. Do you see yourself as a role model?Julianne Hough: I definitely don't try to push anything. All I'm doing is being natural and as real as possible. I would never force anything on anybody, but I didn't have the easiest time growing up. A lot of people might think that because I'm 20 years old and I'm having an amazing life now (laughs). But, it hasn't always been easy self-esteem wise for me. There are a lot of great, talented females that have all this potential. But there's all this discouragement that they're not good enough for something. There's a couple of songs like Love Yourself that I think is very important. Just Help Me Help You, you've got to lend out your hand to somebody, but if they're not going to take it, then it's up to them. I don't know. In anything I do I try to know that everybody's going through the same thing.
Touring straits
SheKnows: Are you hitting the road at all on this record?Julianne Hough: Yeah, I'm actually opening for George Strait. I'm going to do some of my own shows as well. My dates are on my website. I'm so thrilled to be able to go out on tour. To open up for anybody is phenomenal, but the fact that it's George Strait (laughs) is like 'holy crap.'SheKnows: I know right (laughs).Julianne Hough: You know, ever since I met him, he's been really supportive -- him and his wife Wilma. He knows what I'm about and what I want to do. The fact I get to open up for him, I'm going to take in every moment and savor it and learn from it and grow from it hopefully.SheKnows: You made the 2009 People Magazine Most Beautiful People issue, what does that mean to you and how does it resonate?Julianne Hough: It's very flattering. I guess people see me in all those costumes and glamour and makeup. But, if you were to see what I'm wearing right now talking to you - I have no makeup on. I'm just normal. Hopefully they can see the beauty of that instead.SheKnows: Over the years, that issue has also been about the beauty within and you certainly have that in droves.Julianne Hough: Thank you (giggles).
Read on for more DWTS
Enter to win a Julianne Hough autographed guitar!
Cheryl Burke: the SheKnows exclusive
Lisa Rinna on her Dancing with the Stars workout DVD
Our chat with Julianne together with her brother Derek!