Penn Divorce Details
Sean Penn and Robin Wright have once again split.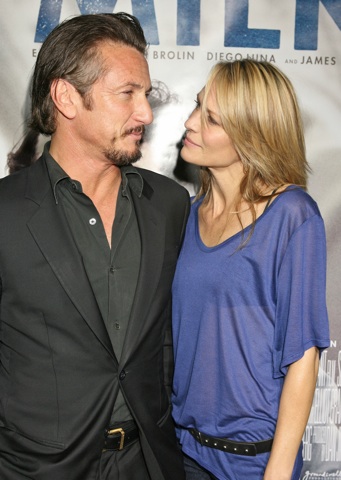 Remember when Sean Penn left wife Robin Wright out of his Oscar speech after winning for Milk? And how afterwards he brushed it off, saying, "She knows how I feel"?Now the rest of us know, too.Sean has once again filed for legal separation from Robin, amidst allegations of not-so-secret rendevous with Lindsay Lohan, among others.This is the second time in two years the couple has separated. Last year Russian hookers were allegedly to blame for the Penn seperation. Robin was the first to attempt to end the union, filing for divorce in December 2007.But by April 2008 the couple had reunited, just in time to begin the Oscar campaign for Milk -- Sean wound up winning Best Actor in February 2009.Interestingly, this split follows an unfortunate trend of romantic splits after Oscar wins: see Reese Witherspoon, Halle Berry, Hilary Swank and Julia Roberts.Sean is currently working on a modern adaptation of The Three Stooges, which may explain the filing -- none of his cash earned after the date of legal separation can be claimed as community property.The couple has been married since 1996 and has two children, 18-year-old Dylan and 15-year-old Hopper Jack.Hmm...Sean Penn and Madonna both single and ready to mingle? Perhaps they'll have a little reunion tour?
Read on for more celebrity divorces
Mel Gibson divorce shocker
Is Bruce Springsteen a homewrecker?
Shana Moakler and Travis Barker call it quits again