Carrie Prejean Loses Miss USA Bid
Miss North Carolina may have won this year's Miss USA title, but comments from Miss California -- Carrie Prejean -- made about same-sex marriage are stealing the limelight.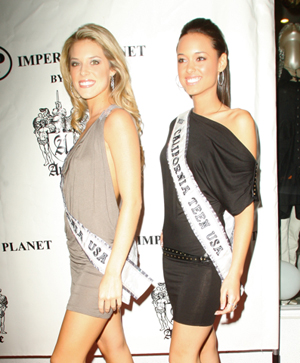 During the interview portion of the competition, Miss California was asked her thoughts on the controversial issue. After fumbling over her words a bit, Carrie Prejean responded, "We live in a land where you can choose same-sex marriage or opposite marriage...and you know what? I think in my country, in my family, I think that I believe that marriage should be between a man and a woman."California is in the midst of a polarizing political uproar over the passing of Proposition 8, which effectively reverses the previous legalization of same-sex marriage in the state.Her remarks drew a mixed response from the crowd, with some applauding and some booing the San Diego blonde.But pageant directors and others involved in the pageant world, many of whom are gay men, are not amused. The co-executive director of Miss California USA/Teen USA said, "As one of the leaders of the Miss California family, I am personally saddened and hurt that Miss California/USA 2009 believes marriage rights belong only to a man and a woman. Although I believe all religions should be able to ordain what unions they see fit, I do not believe our government should be able to discriminate against anyone. Religious beliefs have no place in politics in the Miss California family."Today, Prejean spoke about the controversy surrounding her statement:"I feel like I won. I feel like I'm the winner. I really do," noting that, on Monday, she had 1,000 messages on Facebook and 2,000 friend requests. She adds that her answer "did cost me my crown. I wouldn't have had it any other way. I said what I feel. I stated an opinion that was true to myself, and that's all I can do. It is a very touchy subject. He (Perez) is a homosexual, and I see where he was coming from. I see the audience would've wanted me to be more politically correct. But I was raised in a way that you can never compromise your beliefs and your opinions for anything."Interestingly, Prejean's sister is a gay-rights activist in the military. Prejean told reporters about the conversation she had with her sis after the pageant:"My (heterosexual) sister is a second lieutenant in the Air Force and she is a gay rights activist. She supports gay people; and she supports gay marriage. My beliefs have nothing to do with my sister or my mom, or whatever. She was just in my hotel room and she said, 'Sis, I'm not offended by anything that you said. We have different opinions, and I love you because of it. I love you because you stood up for what was right. It's not a matter of being gay or not gay, it's a matter of you competing for Miss USA, getting a question, and answering it to the best of your ability.' (My sister) has her own views. She's a 22-year-old woman in the Air Force who's extremely educated. She debates with my dad all the time about it. That's what's so great about being an American: We're able to have our own opinions."Miss California came in as first-runner-up in the Miss USA pageant, losing to Miss North Carolina -- and there is little doubt her remarks had much to do with her loss.

Read on for more America's beauty queens
MADD drops Miss Teen USA as spokesperson
Here's to you Miss USA
Beauty queens gone wrong