Malawi Madonna Hearing Friday
Madonna's second adoption of a Malawi child has been put on hold until a hearing April 3 to determine the legality of the action.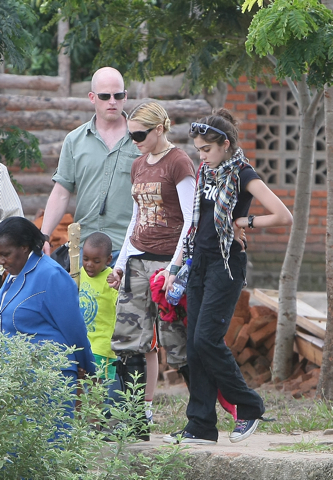 Madonna traveled to the African nation with her first three children, including adopted Malawian David, to finalize plans to adopt another child. However, adoption watchdogs and family members of the child have raised objections that the Material Girl is using her cash to skirt the law."We feel Madonna is behaving like a bully," says Undule Mwakusungula, chairman of the Human Rights Consultative Committee. "She has the money and the status to use her profile to manipulate, to fast-track the process."There is normally a two-year waiting period to adopt a child in Malawi, and things become very murky if there are any living relatives -- Madonna faced similar controversy when she adopted David. The four-year-old girl, named Mercy, was placed in an orphanage when her 18-year-old mother died. Her father is not in the picture. An uncle and grandmother have stepped forward, but not gone far enough to take her out of the orphanage and care for her themselves -- not that this has stopped the HRCC from complaining."Mercy James is a child who has her extended close family members alive and we urge Madonna to assist the child from right here," a statement from the coalition says.A judge will rule on the case in a Malawi court on April 3.
Celebrity baby news
Twin boys for Charlie Sheen
Jennifer Garner, Ben Affleck welcome baby number two!
Ashlee Simpson debuts baby