Rimes Caught In Affair?
Eddie Cibrian denies he is having an affair with LeAnn Rimes.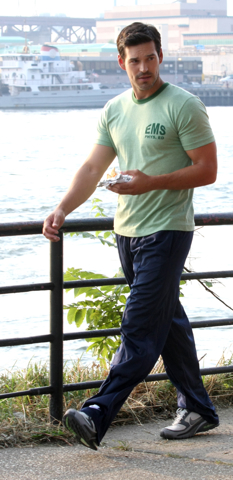 Cibrian, who stars with the country crooner in the Lifetime flick Northern Lights, says none of the rumors are true, despite LeAnn pretty much confirming it on her website yesterday.Cibrian told Access Hollywood, "Other than being friends and two actors who were romantically intertwined in a movie-for-television we filmed last fall, there is no truth to the reporting initiated by US Magazine. It is a fabricated story that is using random snapshots as connective tissue to create a scandalous relationship."But yesterday, Rimes posted a message on her blog thanking her fans for their support during a difficult time -- and issuing no denial. And in this land, no denial is the same as a confirmation.A friend of Rimes confirms that flames between the pair. "There are some feelings there but it's too early to tell if it's going to develop and if she's done with her marriage," says the pal.Are you having an emotional affair? Read this.What about Rimes' marriage to songwriter (and former backup dancer) Dean Sheremet? The couple has weathered storms before, like marrying very young -- Rimes was just 19 when the couple tied the knot - - and rumors that Sheremet likes to play for both teams."The situation that she's grappling with right now is not the cause for her marriage troubles," the friend reveals. "There have been issues brewing for months prior to meeting Eddie on set.""Like any marriage, they've had a couple of rough patches. They've gone to therapy," says the friend. "But they did marry very young and when people marry young it's very difficult to maintain a marriage for the long haul."Cibrian is married with two kids. Pictures published in Us Magazine show he and Rimes making out in public. Are they dumb enough to think that two celebrities can show serious PDA and not be recognized? Probably not. So either they don't care and have no respect for their families, or the whole thing is a big publicity stunt to promote this Lifetime trash.Our vote is for the latter. And we hate when we're right. The show debuted over the March 22  weekend to massive numbers. Coincidence? We think not.
Recent celebrity news
How Madonna stays young
Lindsay Lohan arrest warrant and Twitter meltdown
Rihanna cut off from family