Brown Formally Charged
Shocking new details about the brutality of Chris Brown's alleged attack on Rihanna have come to light.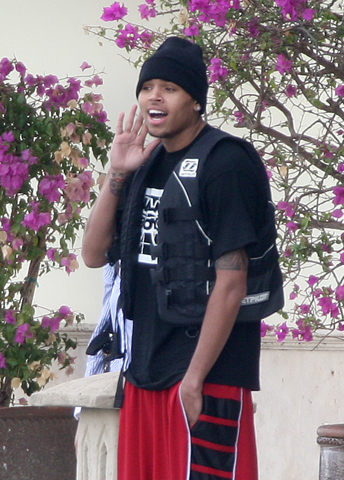 LAPD detective notes have been obtained by a California Fox news station, detailing Rihanna's horrifying night of brutality.Here's how the notes say it went down:According to Rihanna's police statement, the trouble began when she read a three-page text message on Chris' phone from another woman. When she became upset, Brown responded by trying to push her out of the car. He couldn't because she was wearing her seatbelt, so he instead began slamming Rihanna's head against the window.When Rihanna turned to face him, Brown punched her in the mouth, yelling, "I'm going to beat the (expletive) out of you when we get home. You wait and see."According to the notes, this caused blood to spatter across Rihana's clothes and the rented Lamborghini in which they were sitting -- blood that could be key to the DA's case, if it goes to trial.Rihanna then called her assistant, leaving a message that said, "I am on my way home. Make sure the cops are there when I get there."This further enraged Brown, causing him to make what could be a statement that sends him to jail for a very, very long time: a death threat.Rihanna told cops that when Brown heard her ask her assistant to summon the cops, he said, "You just did the stupidest thing ever. I'm going to kill you." He then began punching, biting and choking Rihanna.Rihanna painfully explained in her statement that Brown has been violent towards her in the past, and that the violence has been escalating. In addition, there are more photos taken of the young victim the day after the attack -- photos that make the one leaked to the press look like a glamour shot, as the full extent of the swelling set in.Brown has been charged with two felonies: felony assault and making criminal threats. A spokesperson for the DA says Brown could face a maximum of four years, eight months in prison if convicted.Meanwhile, Brown seems to have wormed his way back into Rihanna's heart. The couple was spotted hiding out in Diddy's Miami hideaway and returning to LA together, and Brown was caught slipping into Rihanna's home in the early morning hours.What happens if Rihanna refuses to testify? The DA can and will still go forward with their case. The office says that more than half of the domestic violence cases they prosecute involve women who have returned to their battering spouse and/or recanted their stories -- and between the photos of Rihanna's injuries, and her initial police statements, they don't need her on the stand.
Rihanna and Chris Brown news
Chris Brown arrested
Rihanna and Chris Brown: the latest
Chris Brown issues statement on Rihanna
Rihanna releases statement
Rihanna and Chris Brown: Celebrities speak out
Rihanna and Chris Brown back together