Depeche Mode
À La Carte
Electro-music legends Depeche Mode have announced cities and dates for their upcoming "Tour Of the Universe," which will mark the band's most extensive tour of North America for several years.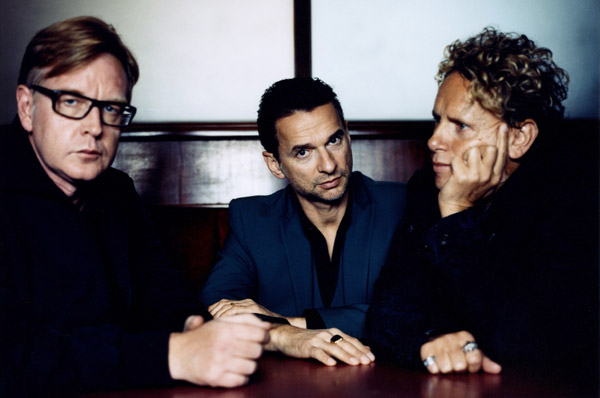 Kicking off in Toronto on July 24th, Depeche Mode's 22-city North American tour will cover both the US and Canada and hit most major markets across the continent (see dates below).Depeche Mode's "Tour of the Universe" is happening in conjunction with the release of the group's twelfth studio album, Sounds Of the Universe (Mute/Capitol/Virgin), which will be released on April 21, 2009. Tracks include 1. In Chains 2. Hole To Feed 3. Wrong 4. Fragile Tension 5. Little Soul 6. In Sympathy 7. Peace 8. Come Back 9. Spacewalker 10. Perfect 11. Miles Away/The Truth Is 12. Jezebel 13. Corrupt.Alongside a standard CD format, Depeche Mode has announced that Sounds Of the Universe will also be released as a Special Edition CD/DVD and a Deluxe Box Set that will include a host of exclusive material: In addition, the album will also be released as a double vinyl LP (including a Sounds Of the Universe CD) and as a download.
Depeche Mode tour dates
Cities and dates for the Depeche Mode's 2009 North American concert tour are: Friday, July 24th - Toronto
Saturday, July 25th - Montreal
Tuesday, July 28th - Washington, DC
Friday, July 31st - Boston
Saturday, August 1st - Atlantic City
Monday, August 3rd - New York
Monday, August 10th - Seattle
Wednesday, August 12th - San Francisco
Friday, August 14th - San Diego
Sunday, August 16th - Los Angeles
Monday, August 17th - Los Angeles
thursday, August 20th - Santa Barbara
Saturday, August 22nd - Las Vegas
Sunday, August 23rd - Phoenix
Tuesday, August 25th - Salt Lake City
thursday, August 27th - Denver
Saturday, August 29th - Dallas
Sunday, August 30th - Houston
Tuesday, Sept 1st - Atlanta
Friday, Sept 4th - Tampa
Saturday, Sept 5th - Ft LauderdaleAll venues are TBA. Tickets for select markets are set to go on sale on March 13th. Formed in 1981, Depeche Mode -- Martin Gore, Dave Gahan and Andy 'Fletch' Fletcher -- continue to win critical and commercial acclaim across the world both in the studio and on the road. All of the band's 11 studio albums have reached the Top 10in not only the UK and USA, but 20 plus countries around the world including Canada, Germany, France, Italy, Spain, Sweden, Denmark, Switzerland and Belgium. Depeche Mode played to 2.8 million people across 31 countries on their last tour alone.