A Shopaholic
Confesses
Isla Fisher walks into an interview room at the Beverly Hills Four Seasons dazzling in a Zac Posen dress. Her Confessions of a Shopaholic alter ego would be proud.
(page 2 of 2)
Quick questions for Isla Fisher:
What clothing item can you not resist?
"There really isn't any, except maybe underwear. Not such a good luck not having underwear."
Ever had a price tag shock when you got a credit card bill?

"Recently someone was buying pet food in Texas on my credit card and I wasn't there, so I did have that experience, but not through any fault of my own.
Workplace romance: yes or no?

"It works out pretty well for Rebecca Bloomwood in the story because Luke Brandon uncovers her voice and helps her to fulfill her talent. For him, she loosens him up and I think they're nice for each other. Personally I'm not a fan of romance in the workplace because you see someone every day."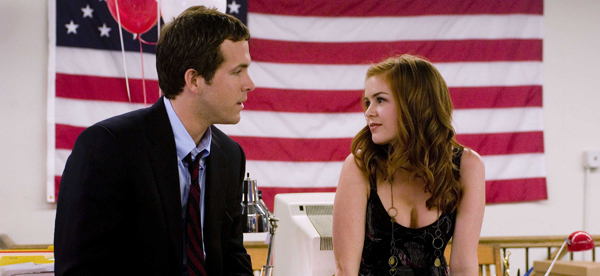 Ever have a why did I buy that moment?
"Several times I've been suckered into a fashion that does not work on someone with a small frame."

On motherhood:
"Motherhood is my favorite topic in my personal life but I don't discuss it professionally because I want my daughter to have privacy and a normal life."
What are your thoughts on the Confessions of a Shopaholic book series?
"I was a huge fan of the books. I read them all long before I head about the project. When I heard about Jerry Bruckheimer, who I am a huge fan of, I didn't think in my wildest dreams that I would even get a meeting, let alone get the role. I literally cannot believe I got the role."
Related topics
The Confessions of a Shopaholic sweepstakes
10 must-see chick flicks
He's Just Not That Into You's Drew Barrymore dishes