Someone Paris Knows?
Paris Hilton lost $2 million in jewels from the robbery in her Hollywood Hills home. The Hilton heiress thinks she knows who did it.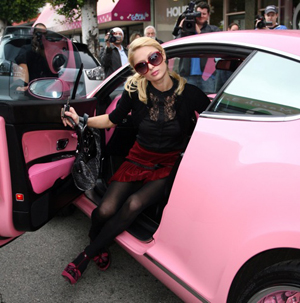 "I think whoever did this, definitely has been there before," Paris tells E! News. "We have some suspects that I'm thinking of."Why does she think this? There are security cameras all over her house (yeah, sure, security cameras), and although they did not capture the burglar's face -- he or she wore a hoodie -- it did show the thief going straight for the goods, obviously knowing exactly where to look."All my necklaces, jewelry that my grandmothers gave me that I'll never be able to replace," is gone, Paris says.Paris Hilton's home was robbed in the early morning hours of Friday, December 19 while Paris was out with pals. It wasn't difficult to gain access -- the front door was unlocked. Not the smoothest move for someone who's no stranger to thievery."You know, it's just an invasion of privacy and it's happened to me before," Hilton says. "It's really scary but they're doing a huge investigation on this and we're going to catch this person."And security at the home has been amped up, too."We have three security guards there and a 24-hour guard who is always on my property," Hilton says. "We have the alarm on, the dogs we have, the guards with the gun, so, no one is going to be coming into my house."But mostly, Paris just wants her stuff back."They just have to anonymously have a taxi drop it off in my front gate in a box with my jewelry and everything they won't get in trouble," she says. "But if all this goes on for much longer they're going to get in more trouble."