Let It Show, Let It Show, Let It Show
Forget "Silver Bells." This holiday season, it's all about the silver screen as theaters become a film feast for movie lovers of all stripes.
(page 2 of 3)
Fairy Tales (and Tails)
The holiday season is incomplete without at least a few flicks to please little ones between Santa- and grandparent-spoiling sessions.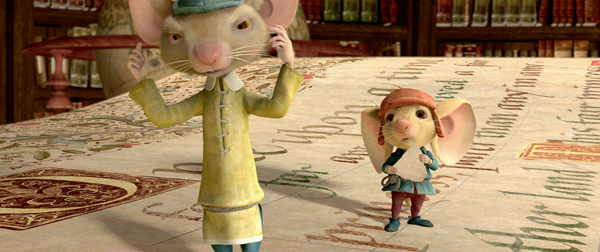 The Tale of Despereaux
Based on the kids' book by Kate DiCamillo, this tale of an adorable mouse (really, how do animated films make rodents so loveable?) who befriends a kind princess looks like the kind of charming tale that makes kids temporarily forget about their wishlists to Santa.
December 19
Yes Man
While not a fairy tale per se, this high-concept comedy feels like something that could only happen in a fantasy land. Stretchy-faced comedian Jim Carrey plays a cynical man forced to say yes to every opportunity to come his way, from bungee jumping to Harry Potter theme parties to male, um, enhancement. Think it sounds crazy? Well, it's based on a true story.
December 19

Bedtime Stories
Adam Sandler goofs it up in this fantastical comedy, that takes a "What If...?" question and answers it as only the movies know how. In this case, the question is, "What if the bedtime stories you told came true?" Sandler plays the uncle to two kids who learns the answer (and probably a valuable lesson, too.)
December 25