Oscar-Winning Interview
Reese Witherspoon found starring opposite Vince Vaughn in Four Christmases one of the great challenges of her career. Witherspoon tells SheKnows all about it as Four Christmases lands on DVD and Blu-ray December 1.
(page 2 of 3)
SheKnows:
There were rumors that you two did not get along on set, which I thought seemed silly.
Reese Witherspoon:I don't know where that ever came from. Everyone I've ever worked with, I'm either having an affair, I'm about to get married to them, or about to have their baby, or…we can absolutely not stand each other. God forbid you don't get along with people at work. We were very much partners on this movie. We worked the script together.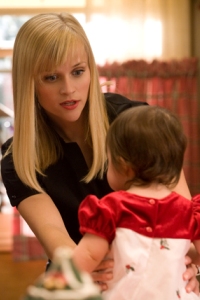 Thoughts on children
SheKnows:In Four Christmases your character can never imagine having a baby, yet over the course of the film, moods begin to swing. Did you always want to be a mom young?
Reese Witherspoon:I understood that. Before I had kids, I never held a baby. I had never babysat. I didn't have any cousins. When I first held Eva - that was the first time I ever held a baby in my life. I understand that fear of not being a good mom. I took a long time until I felt really comfortable in that role of being a mother.
SheKnows:Vince is so much taller than you, like a foot and a half. How was that a challenge in filming?
Reese Witherspoon: Well, we couldn't make Vince smaller, we tried (laughs). He's six-foot five, and I'm five foot two.
SheKnows:How about the learning to dance scene? That must have been fun?
Reese Witherspoon: The kissing scenes are hard, I should say, it's hard to get up there to kiss him. Then dancing, he just picked me up for much of the dancing scene (laughs). Did you see our feet? He's holding me in the air (laughs). It's just so we stay in the same frame! By the way, Vince is such a good dancer.
A contemporary Christmas story
SheKnows:What first appealed to you about a story of a non-married couple visiting their divorced parents over the course of one manic Christmas?
Reese Witherspoon: I think it's a really modern idea that we're going to be together, but not be married and never have children. So many people theorize about that. But, people grow and evolve. It's interesting to see how their relationship grows in Four Christmases. I think the thing we worked on so much is to find that place to be comfortable. Not knowing where things were going to go and being OK with that. We worked hard to find that in words in the script.
SheKnows: In many ways, Four Christmasesis not a Christmas movie.
Reese Witherspoon: This is to me is about a couple and how they deal with their families during the holidays. Through extenuating circumstances have to go home to all four families on Christmas. They kind have escaped that fear of bringing home your significant other to relive every humiliating memory that you have. It's natural human instinct. It's really a comedy about how you deal with it.
Up next...find out what Reese does on Christmas and how she found out about Santa!