Vampire Family
Who's who in the Twilight vampire family?
(page 3 of 3)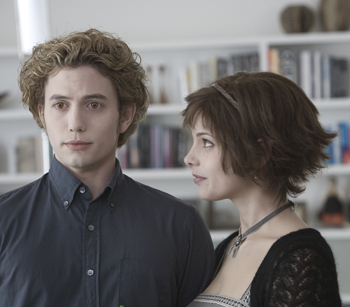 Jasper Cullen
Jackson Rathbone as Jasper Cullen - part geek, part freak.
On his director:
Lutz found that director Catherine Hardwicke cast performers and not appearance. For him, that was a priceless change. "She was looking for actors for these characters and she knew she could make us look like the characters in the book," Lutz says. "Once the fans saw the transformation, then they came on board. At first, because none of us looked like our characters, so it was tough."
On watching a Brit learn baseball:
"Rob's baseball stuff was embarrassing," he admits for his film's lead. "It was really awkward for him to squat and play. It was fun, yet painful, to watch him go through that. He finally got it and he looks great at it to his credit. He took a week to learn to play the game."


Alice Cullen
Ashley Greene compels as Alice Cullen.
On the film's challenges and roadblocks:
"Rosalie hit a camera man with a baseball," she says pointing across the table to her
Twilight
costar. "I had to fly on cable as I was running. And it wasn't until I was up in the air that I realized my arms and legs were not coordinated. You don't know which arm goes with which leg when you're in the air."
On flying through the trees
:
"The wire work was amazing. It was really wasn't that difficult to take to," Greene says, as each man on the panel shakes their heads. "It was difficult for the guys." 
Recent Twilight features
Robert Pattinson and Kristen Stewart: The SheKnows Interview
Take the SheKnows Twilight trivia test
The Twilight soundtrack rocks
The SheKnows interview with Twilight author Stephenie Meyer
Do you have Twilight fever?
Enter to win a Twilight prize pack
Get the Twilight widget!
Chat with other Twilight fans on our Message Boards