Vampire Family
Who's who in the Twilight vampire family?
(page 2 of 3)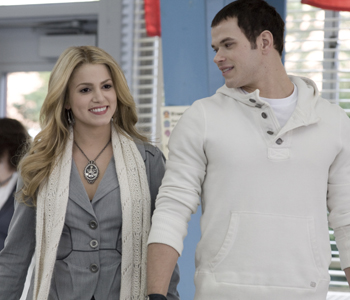 Emmett Cullen
Kellan Lutz is perfectly cast as Emmett Cullen.
On pale problems:
The current Southern Californian found he had to go without his usual Vitamin D. "Can't be in sunlight," Rathbone says of playing a vampire. A challenge: If you can't notice, I have very small eyes. It was really tough. I don't know how they got those in my eyes, but they did."
On getting a gift basket from fans at his hotel:
"I heard a knock at the door and this giggling. I didn't open it, but asked who it was," Lutz recalls "They told me, and I opened up the door and these two ladies had the most beautiful gift basket for all of us!"
Rosalie Cullen
Rosalie Cullen is Nikki Reed.
On getting into character:
"There was a lot of hanging out, a lot of contacts being put in eyeballs. I don't know if you could tell, but it took me 36 hours to become half-blonde with just half of my head," Reed says of the Twilight regimen.

On the initial blogs' reaction to casting:
"I can't look. I don't read those things in the beginning. Now, I am Rosalie. People who have the books can now read it and now put my face to that character. We all experienced a little of this," Reed says. "When there are 20 million people reading a book and each one of them has their own opinion. It's not like when you're impersonating somebody. They have the characters you can imitate. When you play a character in a book, everyone has their own idea of that person. Every single one is different. You have to come to terms with you're not going to be that for everybody. We are them."

On crazy fan reaction:
"I once had a lady ask me to hold her baby because she wanted Rosalie to hold her baby," she says. There's a part in the book where she talks about wanting a family. And this woman approached me and said, 'you can hold my baby!' Here I am in an airport holding a six-month old child!"
Up next...Jasper and Alice