SheKnows Twilight's Edward & Bella
As Twilight fever grips the world, SheKnows was front and center with the film's stars that play the iconic characters Edward and Bella in Stephenie Meyer's now-legendary vampire saga.
(page 3 of 3)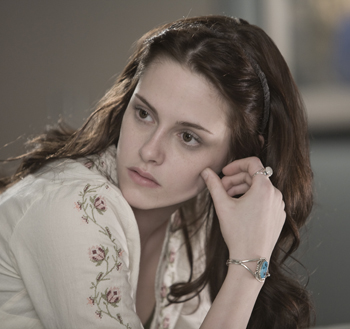 There are millions of upsides to Twilight fame and for one, Stewart sees them as artistic.

"This is going to make it so easier for me to not be gutted every time a movie I'm in love with is never getting off the ground. I never have to wait for a movie to get money and then become too old for the role or just move on from it," Stewart says. "That, I don't think is going to happen anymore. I'm really thankful for it."
Stewart had not read Twilight before accepting the role. "I frequent used bookstores," she says and laughs. "I was working on other things and I didn't want my focus to go anywhere else, so I didn't even read the script. People were telling me all about it, so I read the script and I was begging for the audition."

Stewart does not believe that Bella's fascination with Edward was unhealthy message for young girls. "She doesn't have a choice. It's something ten feet taller than her," she admits. "It's a physiological need. If he wants to kill her, go for it, because if that's all you can do with me, then that's what I want."

The "perfect man"
In the Twilight books, Edward is a perfect creature. The most gorgeous man you will ever meet. For Pattinson, the most compelling aspect of the Twilight saga was in Edward's response to Bella. "Here's a guy who crumbles at the feet of this normal girl and completely relies on her on everything," he says. "You have this Demigod to the naked eye with superhuman powers, and he really feels he has nothing. And that's where the love story comes from."

Sequels?
It will be interesting to follow a character that long. I started out doing it because I felt a responsibility for her," Stewart says. "We don't know if we're going to make the second one. They don't think we're going to do as well as everyone. I guess when we get the results."
Everyone involved in
Twilight
should be extraordinarily optimistic for the franchise's future.

Check back on SheKnows for our interview with the entire Cullen family at the heart of the Twilight tale!

Recent Twilight features
Take the SheKnows Twilight trivia test
The SheKnows interview with Twilight author Stephenie Meyer
Do you have Twilight fever?
Enter to win a Twilight prize pack
Get the Twilight widget!
The Twilight soundtrack rocks
Chat with other Twilight fans on our message boards