Celebs Urge You To Vote!
Steven Spielberg directing is bound to gather a stellar cast. When he's calling Hollywood's "It" people to film a video about voting this historic presidential year, the A-list talent from Cameron Diaz to Harrison Ford serves as a piece of priceless 2008 political entertainment.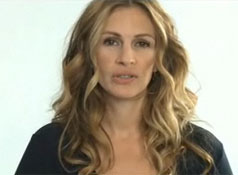 The video's casting coup is the comeback of Borat. Although mastermind Sasha Baron Cohen declared Borat dead, there he is standing with an American flag delivering the entire video's sarcastic punch line: 'Don't vote…not!'
Will Smith, Tom Cruise, Julia Roberts, Snoop Dogg, Ben Stiller and SheKnows favorite, Leonardo DiCaprio- as well as dozens more - appear in the film short.
With record turnout already reported across the country in early voting, this message of the importance of voting seems to have struck a chord across the nation.
In Virginia, for example, expectations are that voter turnout could near the 90 percent rate.
Enter a video by Spielberg and his Hollywood friends and perhaps even more may just jump in the presidential process with the rest of the nation and make this Tuesday a day for the history books.
If nothing else, the film stresses the importance of waiting in the long lines that are expected on November 4 and are currently seen in early voting across the country.
Here's the video in full…and remember, Vote!
Recent entertainment news
Joaquin Phoenix quits acting
Is America ready for Zach and Miri?
Angelina Jolie shares Changeling secrets with SheKnows
The SheKnows Leonardo DiCaprio interview