Molly & Selma Open Up!
Kath and Kim may prove to be what NBC needs to bolster its infamous Thursday night line up. SheKnows went to the source, stars Molly Shannon and Selma Blair, to find their secret to classic comic chemistry.
(page 2 of 2)
"Selma's pretty and thin...so I was just as intrigued by the idea (of casting her) as everybody else was," exec producer Michelle Nader recalls. "Then, she talked about this sort of narcissistic, juvenile girl who is stunted, but in a lovable way. No one else had spoken about the character that way and that is exactly who she is, so I knew immediately Selma was the one."
Selling it to Shannon
In contrast, choosing funny woman Shannon was a no-brainer! As fans of
SNL
and
Superstar
can imagine, producers were eager to lure her to the show.
"They sent me this script with another writer about a year before and it wasn't so hot, so I passed on it," Shannon admits. "Then they redeveloped it with Michelle (Nadar) and brought it back to me. I was like, 'This is much better!' You're partnering with the writer in television. They're homing the ship and you take a chance, believing in them. It's scary. You want to make the right decision, but it's such a crap shoot."
"TV is a great place for women, if you can find your vehicle," she continues. "I love female driven comedy and there isn't enough of it. There's so much with guys and I get like, 'Where are the women?' I'm proud of the fact that we're providing that, now."
After all those years playing characters on
SNL
, she's also enjoying getting to spend some time with only one, for a change.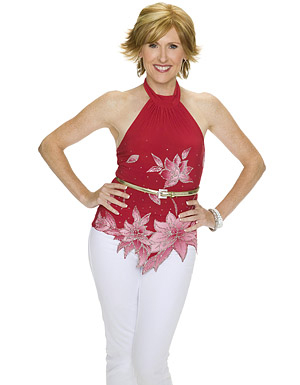 "I'm used to switching around, but this is fun because I can develop it more and more as I do the show and live with the character," she considers. "Also, sometimes when I play a character more similar to myself, I can be more critical, but playing a character like this, you feel freed, because it's so different from yourself. I prefer that."
Measuring up
While NBC's
Kath and Kim
are about as American as apple pie and g-strings, they are actually immigrants, having been plucked from an Australian sitcom of the same name.
"People feel protective of the original series and I understand how they feel," Shannon concedes. "I love the English version of
The Office
and Ricky Gervais and felt that way, so I get it, but people don't know how excited these women, Jane Turner and Gina Riley (the original Kath and Kim) are. They want this to do well and are participating in it. They're so into it!"
Like most immigrant shows, however,
Kath and Kim
have been tweaked to reflect the new audience.
"It will be less slapsticky," Shannon explains. "I'm not going to fall down a lot. Kath's a different character, but the dynamic of the relationship is the same. There are some very Australian things that don't translate, so we have to make it our own. Plus Jane's so amazing. I could never touch it!"
To see for yourself, tune in to NBC on Thursday nights this fall at 8:30 pm.
Recent entertainment news
Beverly Hills Chihuahua topples box office for second straight week
Britney Spears' latest video, Womanizer, we've got it!
Lisa Marie Presley has twins!
Posted October 14, 2008