Box Office Goes To Dogs
Opting for style over substance in a time of turmoil, Americans sent the box office to the dogs one more time.
Americans cannot get enough of Beverly Hills Chihuahua as the Jamie Lee Curtis starring film again took the top spot at the box office. The film from Disney raked in another $17.5 million to add to its take, bringing its total to $52.5 million.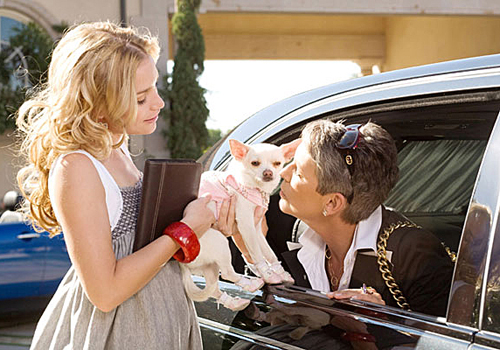 Horror-thriller Quarantine grabbed the second spot as audiences geared up for the upcoming Halloween holiday while the reunion of Leo and Russell, Body of Lies, proved fruitful with a respectable $13.1 million in its premiere weekend.

That is the highest grossing figure for an opening weekend of any War on Terror film thus far, but still proved that America would rather watch a talking dog with the financial crisis worsening than a film that reminds them of the world's troubles.

1. Beverly Hills Chihuahua, $17.5 million
2. Quarantine, $14.2 million
3. Body Of Lies, $13.1 million
4. Eagle Eye, $11.0 million
5. Nick & Norah's Infinite Playlist, $6.5 million
6. The Express, $4.7 million
7. Nights in Rodanthe, $4.6 million
8. Appaloosa, $3.3 million
9. The Duchess, $3.3 million
10. Fireproof, $3.2 million
October 13, 2008
Related stories
SheKnows interviews Russell Crowe and there's no reason to duck
Don't count Leonardo DiCaprio in for Body of Lies 2
Nick & Norah's Infinite Playlist's Michael Cera gives us his best playlist
Nights of Rodanthe: Richard Gere and Diane Lane admit she was a little cold when they first met