DiCaprio Dishes To SheKnows
Leonardo DiCaprio had no reservations when the time arose to work with Ridley Scott. What most compelled him, DiCaprio tells SheKnows, is his Roger Farris - a CIA agent - is a character so involved in the War on Terror that it has become his life.
(page 2 of 2)
A rough Body
As for the stunts, it was difficult to say the least. But it is par for the course. "That's the nature of working on a Ridley Scott movie. You have to embrace that," DiCaprio says. "The pace in which he shoots is really intense, really fast paced, and you have to be prepared for anything at any given moment."
DiCaprio illustrates with a story. "He literally has helicopters on stand by to go and get an overhead shot while you're running through an entire city," DiCaprio says of the typical shooting scene with his director.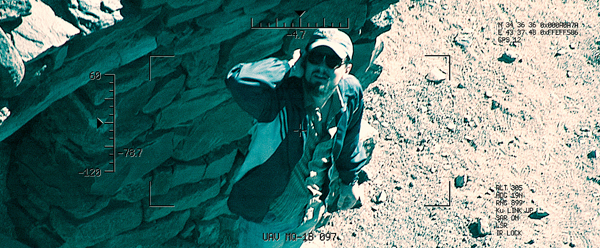 "'Why don't you walk down the block? We're going to have three helicopters chase you through an Arabic street in real time. We've blocked off some traffic. We'll be fine, you'll be great," he says imitating Scott.

"You have to just be prepared for that. That was the biggest adjustment. I just came from this other movie Revolutionary Road where it's this 1950s play or something where we're talking about our feelings for months at a time in a small room. And then I wound up in Morocco with missiles being shot at me. It was a bizarre transition. But once you get accustomed to that pace, you embrace it. You enjoy it and it starts to become this adrenaline-ruled work environment that you love."

While his costar Crowe may have had the time of his life sitting behind a laptop and working the cell phone, DiCaprio had to endure months of filming under the scorching Middle Eastern sun including a torture scene was that was the definition of personal horror.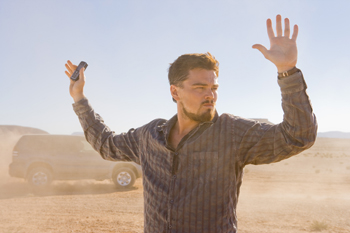 "I think that's the nature of the environment. It kind of played a toll," he says. "To tell you the truth, we were there for three and a half extra months in…"

DiCaprio pauses, "Just thinking back…yeah…it was difficult."

As for training for his role, if he tells SheKnows who he spoke with to prepare for portraying a CIA agent, DiCaprio would have to execute the proverbial 'I'd have to kill you' moment.

"I got to work some people that worked in that field, but you know…" DiCaprio says and flashes that trademark smile.

"It's a very interesting subject matter to take on because, unless you're talking about the CIA and the general context of history and what they've done historically - which we're only now starting to learn about - the basis of it being able to operate is that it is shrouded in secrecy. Otherwise it wouldn't be able to function. There's a certain leap of faith that you take with all this stuff. David (author David Ignatius), the research he did talking to real heads of Jordanian intelligence that got built into the screenplay, it takes a life of its own."


A Titanic reunion
DiCaprio mentioned
Revolutionary Road
earlier. The film is the long-awaited reunion of the actor with his
Titanic
costar, Kate Winslet.
"Kate has remained one of my closest friends and the best actress of her generation. She brought this book to me which was a portrait of America after the World War II of this family trying to, basically, become the idyllic versions of what a family supposed to be," DiCaprio says. Two people struggle to do that. They're torn apart because they feel they've become cliched."
After the emotional hurricane of James Cameron's
Titanic
epic, those thespian strings proved easy to pull.
"Kate and I knew we could push each other's buttons, performance-wise. We could pull stuff out of each other. We've known each other since we were almost teenagers," DiCaprio says. "I jumped at the opportunity."
Recent SheKnows interviews
Russell Crowe
Jessica Simpson
Diane Lane and Richard Gere
Anne Hathaway
John Cusack and Steve Buscemi talk about Igor