Russell Crowe Is Having A Blast
Currently, life is quite good for Russell Crowe. The married, father of two has two Oscars sitting with his beautiful family at home in his native Australia as his Body of Lies hits theaters with high expectations.
(page 2 of 2)
Inside the Lies
"It was really easy, working with Leo, and fun," Crowe says. For DiCaprio, his answer may differ. Visit SheKnows tomorrow for our in depth interview with the talented actor. Each were at other end of the spectrum. DiCaprio in the midst of war and Crowe orchestrating battlefield moves while dropping his kids at school.
The Scott directed thriller could not be timelier. DiCaprio's CIA agent is entrenched in the Middle East geopolitical war.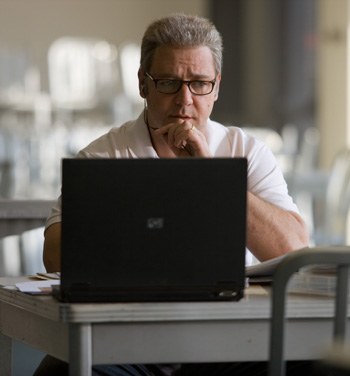 For much of the film, both DiCaprio and Crowe are attached to each other through their phones. Crowe found the process of talking into a phone with no one on the other end easier than what some directors employ in those scenes, which is a live feed from the actor supposedly at the other end.
"It's the same if you're doing a CGI film and you're supposed to be in the middle of a flock of black ravens. In fact, most of the time when you're on a film set, what you see as an audience has nothing to do with the experience of the actor," Crowe says.
"You're always shouting off at things that aren't there and it can't affect your focus. You just try to zero in on the phone call. Some guys try to do that thing with both people on the phone (while filming), which is utterly a waste of time. It's better off if you do the groove by yourself."
Luckily, that is exactly how Scott works and Body of Lies was no different.
What struck SheKnows of the Crowe-Scott chemistry was how organic their working relationship appears.
A breathtaking body of work
How did they hook up for Body of Lies, their latest go around?
"The first thing I got was a phone call from Ridley saying 'how would you like to put on a large amount of weight,'" Crowe says in his best British Ridley Scott accent. "That always appeals to me."
It certainly does, the actor put on 50 lbs for The Insider and the work earned him an Oscar nod.
"That was a sell right there," he says and laughs. "But one of the things Ridley says is he wanted the character to feel like an ex football player with bad knees, but still had some grace about him. That was interesting. Everything else comes from the book and the way the character talks in the book."
As Hollywood tends to do, success breeds imitation. The filmmaker and the actor did not want to exploit the success of Gladiator. "I went through a period of time where, even after the great success we had on Gladiator, I didn't fully realize that's probably a unique situation that will probably come along in your performance life," Crowe says of his artistic chemistry with Scott.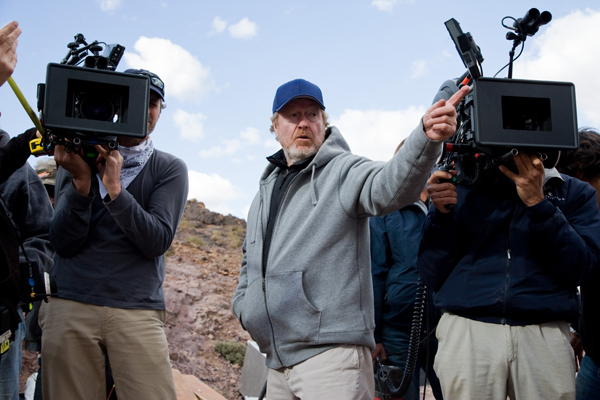 "We went through a thing where he asked me to do Black Hawk Down, but I had just done a movie where there was a helicopter in the background and I wasn't interested," Crowe remembers. "Then he wanted me to do Kingdom of Heaven, but I was doing something else. The last three things we've done together is basically 'right, this is what we're doing. Cool!' I say yes first with him and then work out why I want to do it afterwards."
Was there any advice Crowe willed upon DiCaprio about working of a Scott film?
"The lesson to any young player if you want to work with Ridley is you have to be prepared to bleed," Crowe says. "It's as simple as that."
The tables have turned on the Gladiatorstar in this picture, with DiCaprio the actor executing the Scott filming regiment that results in cuts and bruises.
For Crowe, his days at the Scott office were pure bliss for a change.
"Well, I definitely was having the time of my life because I knew that ultimately I'll be out of there in five weeks," Crowe says and laughs. "Someone else is going to get blown up in this time and I was perfectly happy with all that."
Recent SheKnows film interviews
Anne Hathaway talks about Rachel Getting Married
Richard Gere and Diane Lane share Nights in Rodanthe secrets
Anna Faris is The House Bunny