The Igor Interview
The cast of Igor is amazed at the finished product. "I thought it was wonderful," Steve Buscemi says. "It seemed like the sensibility of the people making it was something that I could relate to. Sitting there, seeing it on the huge screen was just amazing. It looks incredible. I loved the film."
(page 2 of 2)
Comic chemistry to the extreme
Jennifer Coolidge and Eddie Izzard waltz into the room. Then, Izzard jets out. For what, Coolidge has no idea.
"I'm doing great, thank you," Coolidge says as she watches Izzard's head out into the hallway of the 15th floor of the Beverly Hills Four Seasons.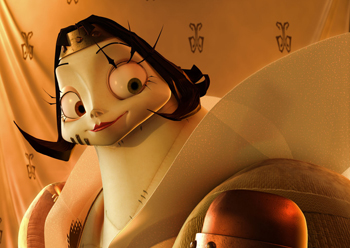 The unexpected break allows Coolidge to give a shout out to her beautiful green dresses' designer. "This is Nicole Miller," she proudly says. "What I like about Nicole is sometimes I go into the stores and I think 'this is a great dress for the premiere.' Then it's like five grand. Nicole is quite reasonable you know what I mean. This was a dollar."
Upon hearing a couple of people sharing a hysterical laugh, Izzard, ever the comedian, returns in his flamboyant, yet uniquely sophisticated glory with that British accent.

"And we were all having sex," Izzard quips.

The actor is then asked where he discovered his character for Igor. "In my underwear."

Contributing to the laughs is nothing new for Izzard who has been making audiences guffaw for decades. "We should use big words for this interview," Izzard says to Coolidge.

"The film was truculent, distinguished, cataclysmic, verbose…are there any other words?" he asks his costar.

"Gymnasium," Coolidge quickly retorts sending us all into laughter.

The response is so Coolidge, and to think of it, Izzard is as you would expect as well.

"We wanted to be better in this film than anyone else. And I think we were," he says with a straight face. "They've all agreed with us."

Coolidge adds that at the Igor premiere, the little ones, the audience that really matters, also share that sentiment. "Yesterday a three-year-old said we nailed it," she says and laughs.

"Yes, this tested bad with two-year-olds and one-year-olds, goes right over their heads," Izzard adds. "They don't get the nuances of it. Their like kittens. They test very badly."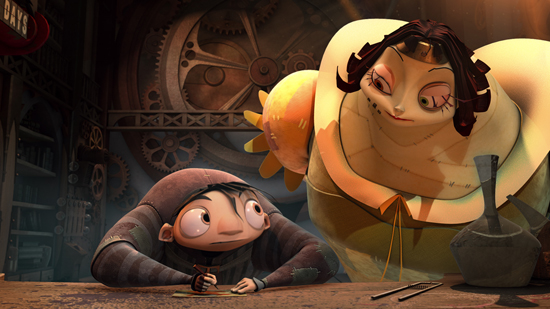 It is easy to see there is difficulty getting words in when Izzard and Coolidge are going at it. One thing this writer would love to see after witnessing Igor, these two reunite in a live-action comedy. They're priceless.

"The reason I always do kid movies, is they are the best fan you can have," Coolidge says with a bit of seriousness. "It's so genuine when they see you and they light up. Sometimes they don't even saying anything and just come up and give you a hug. There's something so pure and charming about that."


Sean Hayes and the helmer
Sean Hayes and director Anthony Leondis were the last to visit with SheKnows and their pairing was perfect.
"He's much more interesting than I am," Hayes says of his director. The man who took McKenna's dream and made it a visual cornucopia of fabulousness is taking the praise in stride.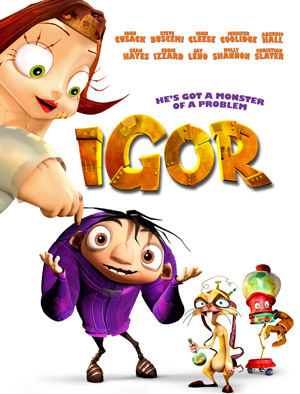 "He saw me at Ralph's," Hayes interupts as Leondis laughs. "He was bagging."
Sense a universal humor with this cast?
"We wrote the part for Sean," Leondis says in all seriousness. "We wrote the part for Molly, for Jennifer and we were praying that they would say yes. If not, we'd have someone else do a bad impression of Sean Hayes."
"He'd probably do a better Sean Hayes than me," Hayes adds.
"Nobody plays the arrogant stupid guy like Sean," Leondis says obvious to Hayes comment. "Nobody is better than Sean."
Hayes came aboard immediately after seeing initial drawings and the script. "I thought it was amazing that Chris and Tony created a new kind of tone and world and feeling that we haven't seen before. It's amazing that Exodus and MGM and everybody helped do that. It's exciting to be part of something new. The sharp edges of the drawings, the darkness of it, but still kid friendly and eccentric, I loved all of that."
Recent film features
Eva Mendes: The SheKnows interview
The SheKnows fall film preview: From The Women to Twilight
Meg Ryan and Annette Bening talk to SheKnows about The Women