School Cinema's Best

Nowhere is the grade through high school experience better captured than on film. From Mean Girls to Ferris Bueller, here is the SheKnows look at the Top 10 Back to School Films to ease the passing of summer into school.
(page 4 of 4)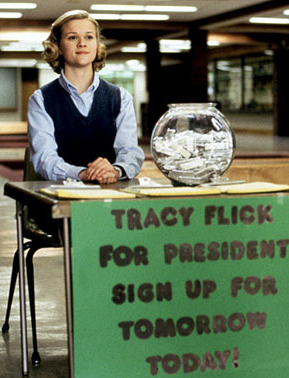 2. Election
Never has Reese Witherspoon been so biting in a film. Never has Matthew Broderick been so conniving and hardly ever has Chris Klein been so kind. That and Alexander Payne's script and direction led this film to be one of the best school-centered films of all time.
Sharp, witty and insanely magnificent,
Election
is a back to school movie for the ages.
Every person watching this instant classic knows a soul portrayed on screen. Whether it is Witherspoon's wanna-be president and her believed destined drive towards the school's executive office or Chris Klein's miracle of a performance that at the same time is soft and sincere, wikedly counterbalances Witherspoon's fierceness.

(Interesting note: Klein was discovered in the Midwest town where Election was filmed)

The referee in the midst of this high school election madness is Broderick and his intensions are far from perfect, which also enhances why Election is right near the top of this list.
Few films capture the universe of teachers, administrators, parents and students as Election does with grace, tenacity and humor.
1. The Breakfast Club
John Hughes best film is atop our list because of its ability to put school age kids into the stereotypes that still in fact, exist today.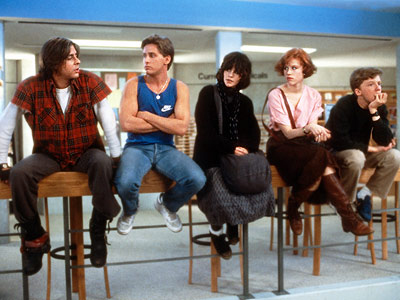 As shown in the current documentary American Teen, the archetypes are almost the same. There's the jock, the popular girl, the outcast, the geek, and the trouble-maker.
Together, in The Breakfast Club, they form a club that rocked a nation of kids getting out of school for the summer in 1986 and millions since.

There is a message in The Breakfast Club that has endeared it to generations. How, when we work together towards a common goal, we can accomplish anything.
Contrasting the gang that leaves a detention Saturday versus the one we meet in the beginning is why this film resonates and will continue to long into the future.
Honorable mention: Dead Poet's Society, Lucas, Akeelah and the Bee, Napoleon Dynamite, Heathers, Clueless, School of Rock, Rebel Without A Cause, Footloose, School Ties, Rock n' Roll High School
Recent movie features
Visiting with Anna Faris and the cast of The House Bunny
The Sisterhood of the Traveling Pants 2 share on-set secrets with SheKnows
Vanessa Hudgens and her High School Musical 3 friends have a release date
Who's the next Julia Roberts?