America's Next Sweetheart
Julia Roberts took Hollywood by storm, notching nine $100 million-earning movies in a decade. No one has followed in her footsteps since that 1990-to-2000 run. Actresses are on their ways, though -- Jessica Biel and Jennifer Garner from Valentine's Day immediately come to mind. Who's in the top 10 and who really has the chance to take the mantle of America's Sweetheart from Julia Roberts?
(page 4 of 4)
3. Scarlett Johansson
Not just anyone gets to serve as Woody Allen's muse. That is exactly what Scarlett Johansson has done, and more. Johansson is considered one of the foremost actresses of her generation. Although her box office clout has not gone through the roof as of yet, there is no question she is one of the three top actresses in Hollywood.

It seems almost fateful that she didn't get the career start she wanted. Johansson lost the lead role in Disney's The Parent Trap to Lindsay Lohan and has since charted a career path that puts her soundly in reach of the America's Sweetheart title.

Critics and audiences are hailing her performance in Allen's Oscar winner, Vicki Christina Barcelona, and that's just the beginning for Johansson. Later in 2010, she stars in Iron Man 2, which promises to begin a string of $100 million movies.
2. Keira Knightley
She's already off to a great start racking up the $100 million hits, with three Pirates of the Caribbean movies already under her belt, as well as her Oscar-nominated Atonement.

One aspect that kept her from being No. 1 on our list of America's Sweetheart contenders is Knightley's British citizenship. Can you think of an America's Sweetheart who was not American?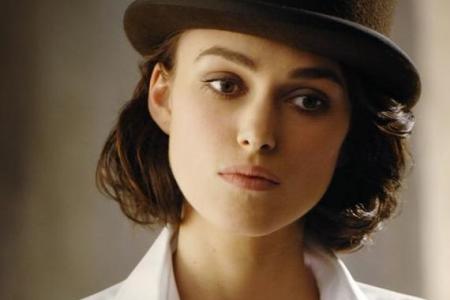 After earning raves for her performance in The Duchess, Knightley is sitting comfortably in the glow of quality Hollywood products and film franchises that will prove lucrative and shower her with awards. Knightley is the one. She is already halfway through Roberts' streak of nine $100 million-earning films! Add in the upcoming fourth installment of Pirates, and Knightley is sure to notch another smash.
1.  jennifer garner
Jennifer Garner is such a peach that she captured the heart of Ben Affleck. In Valentine's Day, she is the object of Ashton Kutcher's affection, and we can see why. 
Garner first caught our eye in Alias and has since blazed a trail uniquely her own.
Garner already has a few $100 million films under her belt, including the 2000 smash Pearl Harbor, 2002's Catch Me If You Can, 2003's Daredevil (where she met hubby Ben Affleck), 2007's Juno and 2009's Ghosts of Girlfriends Past. 
With the arrival of Valentine's Day on February 12, one could easily see Garner adding another $100 million hit to her resume.
more on the next Julia Roberts