Say What?
Songs usually age well. A few do not. These are the Top 10 Irrelevant Song Lyrics starring the one and only Beatles.
(page 4 of 4)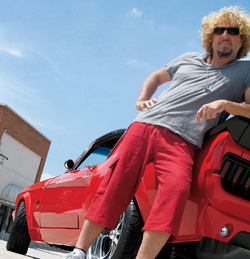 Speed limit does not compute
1. I Can't Drive 55 by Sammy Hagar
When the national speed limit is 65 miles per hour, generations have grown up since Hagar sang this classic. Each one must raise an eyebrow at the slow figure in the title.
Fifty-five was introduced as a speed limit by Jimmy Carter in the 1970s!
Sammy Hagar, once a rebel, now seems a bit senior citizen.
To hear him wail I Can't Drive 55 because he wants to go faster will fall on deaf ears since President Bill Clinton upped the speed limit to the current rate of sixty-five.
The Red Rocker was on to something by launching a slew of T-Shirts, posters and the like from a simple catch phrase that took the '80s by storm.
Van Halen called, then they did not call, then they'd call again...oh, who can keep track?
It doesn't matter because you, Sammy Hagar, have won the SheKnows moniker of most irrelevant song lyric of all time.
Recent music features
Sean Lennon talks to SheKnows
Britney Spears is returning to the VMAs
Irish rocker Lesley Roy makes a statement
Midsummer's best CDs
Katy Perry kisses a girl and makes Billboard history