They Said What?

Hollywood celebrated its own with the MTV Movie Awards on Sunday and SheKnows was on the gold carpet and gives the inside scoop on who said what about who!
(page 3 of 5)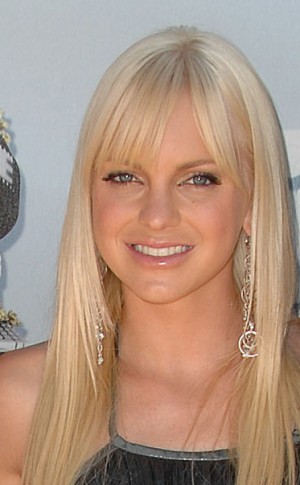 The House Bunny crew
House Bunny star Anna Farris said that working with "American Idol" alum Katherine McPhee was terrific. "We had a blast making this movie," Farris said. As her co-star Rumer Willis walked by, the fans screamed. Farris' head quickly turned. "She was awesome, too."
The Demi Moore and Bruce Willis baby is making a name for herself and appeared ever the pro walking the carpet. Farris was proud. "Doesn't she look great?"
As for the film about a Playboy bunny who is kicked out of the mansion, Farris said audiences can expect a whole lot of laughter with just enough pink to please everyone going through "Sex and the City" after-the-movie withdrawal.
"It's a comedy that all the girls can love, and bring your guys, too," she said.
Twilight Time
The loudest screams of the afternoon, besides those of Coldplay, was for the stars of Stephenie Meyer's "Twilight." Robert Pattinson, spoke eloquently about his participation in a phenomenon. "The entire process has been a blessing," he said when asked about the phenomenon before taking MTV News' stage. The response from the fans said it all. Cue: shriek!
Diddy whipped by and didn't talk to the press, but gave everyone a high five as he ran to the entrance followed closely behind by Paris Hilton, who had a great time knowing she wasn't going to jail like last year.
Speaking of Paris…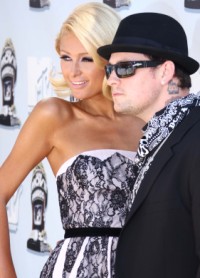 Trouble in Paradise?
Paris Hilton and Benji Madden were all smiles along the gold carpet, but inside the Gibson Amphitheatre, appearances said otherwise. As Mike Myers was leading the show, there was Benji at the bar downing a cocktail with Paris visibly ticked. Turning around to lean away from him and facing the theater entrance, I smiled and she rolled her eyes.
If these two are splitsville by the end of the summer, SheKnows told you about the trouble in Paris Paradise first!
Next down the gold carpet, a bevy of blondes, the star of "Hairspray" and the Orbit girl...