They Said What?

Hollywood celebrated its own with the MTV Movie Awards on Sunday and SheKnows was on the gold carpet and gives the inside scoop on who said what about who!
(page 2 of 5)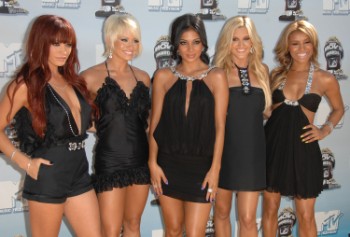 Dripping Dolls
The Pussycat Dolls attended the MTV Movie Awards to perform their latest single. Besides competing with Coldplay for the musical attention of the audience, the ladies in black had to grapple with the blazing hot sun and pounds of makeup.
Rushing by all media outlets, giving off that Diva flash, it was a moment in humbleness watching them have to wait their turn to be interviewed by MTV News.
For all their hurry, the kitties sat next to me for over 10 minutes as the stars of "Twilight" spoke their peace to the MTV millions at home. Slowly, but surely, the ladies who were made up for television, saw their make up commence melting. Also, as the heat permeated their tiny, but black, outfits, it was uniquely humbling to watch the Pussycat Dolls look so uncomfortable as the rest of us are when we start to sweat in the most awkward of places. Cue relief: Pussycat wedgie pulls. I kid you not, sorry to burst your glamorous Pussycat Dolls bubble!
Anna Farris, the stars of "Twilight" and Paris Hilton are next...