A Sensible 'Sense'

Does Jane Austen really need another adaptation? Yes, absolutely! As evidenced by this exclusive clip below on SheKnows, the newly arrived DVD of "Sense and Sensibility" from the BBC is one to treasure.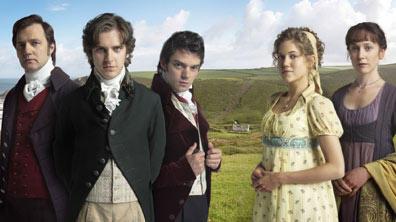 This 2008 "Sense and Sensibility" is a delight. It is produced by the same BBC network that brought the perfect Jane Austen adaptation to life – "Pride and Prejudice" making Colin Firth a star.

The production went to great lengths to find the perfect cast – and that they did. The Dashwood sisters are a fantastic fit in age, look and temperament.

In the 1995 Oscar-winning film version, Emma Thompson was not convincing playing a 19 year-old Elinor Dashwood. What makes the 'Sensibility' aspect work so well in the Austen book is that despite more mature family members around her, teenage Elinor is by far the most mature. Love "Emma", but this BBC "Pride and Prejudice" simply nails the wonderment of age that Austen paints in her heroine.

This new Mr. Edward Ferris is charming and has a scene to rival one Colin Firth's emerging from the water in Pride and Prejudice. Look for Mr. Ferris splitting wood on a rainy day and you have another Austen magic-man movie moment. Hugh Grant's portrayal of Mr. Ferris was charming, but in the BBC version, casting again trumps.

The younger Marian Dashwood plays sensibility beautifully while not going overboard.

The settings add emotional heft to every scene. The cottage where the Dashwoods relocate is in every way as isolated as they feel. The music and costumes are glorious and Jane would be more proud of this version of her work than any other – accept perhaps BBC's five-hour "Pride and Prejudice" that is a masterwork.

Along with the DVD of "Sense and Sensibility" comes "Miss Austen Regrets" about the authors letters sent to her loves that paint a picture of a woman who may have traded literary success for personal happiness, yet still found incredible serenity in the accomplishments of her life.

This package makes one Jane Austen fan extremely joyful. It is a can't miss.
And now, our exclusive SheKnows clip from Warner Brothers Home Video.