Trip Down Memory Lane: '60s & '70s TV
In the days before DVDs, before videotape -- heck, even before many of us had color TV -- plain ol' live television was a big deal. Here's a look at a few videos from some of the most memorable (if not truly the best) TV shows from the Gen Xers' childhood years.
(page 8 of 11)
The Land of the Lost
"The Land of the Lost" was another trippy show that was part of Saturday Morning With Sid & Marty Krofft. It was about a father (Marshall) and his two kids (Will and Holly) who stumble through a dimensional portal, or "time doorway," and get transported to a time/place where dinosaurs roamed and homo sapiens didn't exist.
"The Land of the Lost" theme song: Lyrics
Marshall, Will and Holly
On a routine expedition
Met the greatest earthquake ever known
High on the rapids it struck their tiny raft
And plunged them down a thousand feet below
To the Land of the Lost (x3)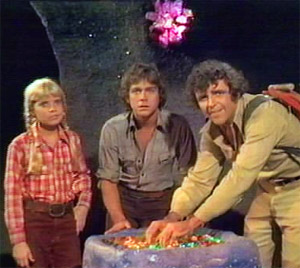 When watching the show now, particularly notable are the stellar special effects. You know -- the "rapids" that look like they were made using a hose in someone's backyard, the 1950s era Godzilla-esque dinosaur animation, and the cheesy sets that belied the show's serious tone (well, when compared to most of the Krofft's Saturday morning fare).
"Land of the Lost" originally aired from 1974 to 1976... but as movies like Bewitched, Lost in Space and The Addams Family prove --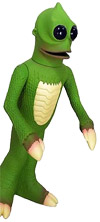 old TV shows never die, they just get "reimagined."
Yep, a "Land of the Lost" movie starring Will Ferrell is currently in production, due out in July 2009. The adaptation was summed up as such:
...revolves around a disgraced paleontologist, his assistant and a macho tour guide who find themselves in a strange world inhabited by dinosaurs, monkey people and reptilian Sleestaks.
If you don't want to wait that long, there's a "Land of the Lost" complete series DVD set that's available right now.