Trip Down Memory Lane: '60s & '70s TV
In the days before DVDs, before videotape -- heck, even before many of us had color TV -- plain ol' live television was a big deal. Here's a look at a few videos from some of the most memorable (if not truly the best) TV shows from the Gen Xers' childhood years.
(page 3 of 11)
ZOOM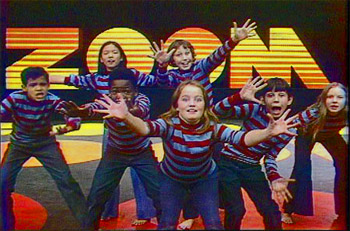 Back in the early seventies, ZOOM was a new-style educational show for children. Unlike cartoons and shows like Mister Rogers and Romper Room, ZOOM was hosted totally by kids. They also offered some early reality-TV-like moments, as they always featured letters and took suggestions from viewers around the country.
Produced in Boston, the ZOOM TV show ran on PBS nationwide. While it had about 10 years extra in reruns, the series' original episodes ran from 1972 to 1978.
There was a ZOOM revival (with a new cast, new logo but still pretty much the same concept) in 1999. Unfortunately, ZOOM couldn't compete for long against the likes of Nickelodeon and the Disney Channel.
You can still watch the original ZOOM opening credits -- with cast introductions -- here!
Zoom Ubbi Dubbi-speak
Yubou mubight ubalsubo rubemubembuber Zuboom's spubeciubal lubanguubage, Ububbubi Dububbubi. (Ubi cuban stubill spubeak ubit ubif Ubi dubon't thubink tuboo hubard ubabubout ubit.)
Need help reading the above? Here's where you can find ZOOM's Ubbi Dubbi translator -- or get a lesson below!