Here's To You
Miss USA
Miss Texas Crystle Stewart has been crowned Miss USA 2008.
A 26-year-old Texan has been crowned Miss USA 2008 by Donny and Marie Osmond. Crystal Stewart, hailing from Missouri City, Texas, is one of only a handful of black women to be crowned in the pageant's 57-year history.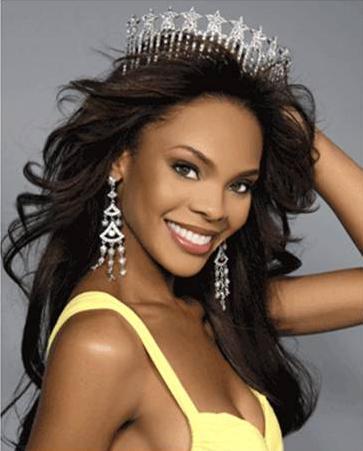 "I want to talk to people about how to set a goal and achieve it," she told reporters backstage. "Because I just achieved my goal."Stewart was already a success before her win -- she runs a party planning and motivational speaking company and is a professional model who wishes to dedicate her life to international philanthropy.This was Stewart's sixth attempt at the top spot -- she first competed for the Miss Texas crown in 2002 and placed as a runner-up several times.Other winners of the evening included Miss Alaska USA, Courtney Erin Carroll, was chosen "Miss Photogenic USA" based on voting at the organization's Web site, and Miss Ohio USA, Monica Day, named by the other contestants "Miss Congeniality."Finalists included First Runner-Up Miss Mississippi Leah Laviano,
Second Runner-Up Miss New Jersey Tiffany Andrade,
Third Runner-Up Miss Oklahoma Lindsey Jo Harrington, and Fourth Runner-Up Miss Pennsylvania LauRen Merola. Even Chace Crawford's little sister got a taste of beauty queen victory -- Candice Crawford scored as a semifinalist.Stewart will compete in the Miss Universe pageant in Vietnam later this year.