Ashlee Simpson
Is 'hot Stuff'
Ashlee Simpson is right where she wants to be in life. Our favorite Simpson sister is engaged to Fall Out Boy's Pete Wentz. Her latest album, "Bittersweet World," hits stores April 22 -- and, despite the implication of the CD's title, she has never been happier.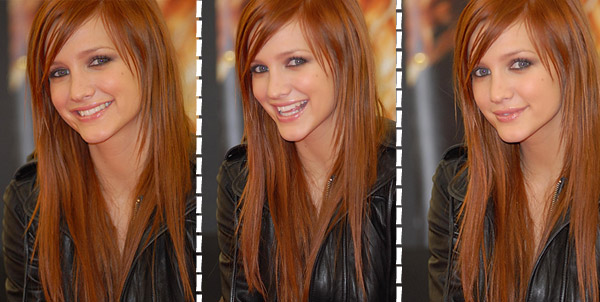 Ashlee Simpson's name has been everywhere for nearly a decade. From the notorious – "Saturday Night Live" lip-synching -- to her fabulous single "Outta My Head" serving as one of the most delicious dancefloor anthems in recent years, this superstar is simply getting started.
She's not just sticking to music either. On April 22, the same day of her new album release, Ashlee is launching her own clothing line with Wet Seal. And after a very visible courtship, the 23-year-old just announced her engagement to Pete Wentz of Fall Out Boy.
After gracing the covers of magazines such as Rolling Stone and People, Ashlee Simpson sat down with SheKnows to share her views on beauty, celebrity, music and, of course, her style secrets.

SheKnows: After your last two records debuted at number one, did that put a lot of pressure on you in the recording process?

Ashlee Simpson: No, I didn't feel any pressure with this record. For me, I made the record that I wanted to make this time. It definitely puts less pressure on me, actually. Because I've already hit number one, I felt I could do what I wanted with this CD.
I wanted to make a fun record. I wanted to make a record people could dance to, and I wanted to work with great, creative people. I got to work with Chad Hugo from the Neptunes, Kenna, and Timbaland and his crew and this amazing writer that goes by Jim Beam. It was a group of cool, creative people. It was a great thing for me, and I am really happy with the results.

SheKnows: I interviewed Kenna a few months ago, and he spoke highly of you. What was it about his music, background and expertise that drew you to him?

Ashlee Simpson: I think Kenna is so talented and creative. It was one of those things that was really meant to be. I thought he would completely understand me. That is sometimes hard to find. With this record, he could teach me something, I could teach him something (laughs), and we could learn from each other. His music is incredible.
SheKnows: You said you wanted to make a fun record, a party record. From what I've heard so far, you've definitely achieved that. Is this a case of, if the artist is having fun, the audience is going to have fun?

Ashlee Simpson: I really hope so. It's a record that I'm really proud of. It's a fun record. The songs are sweet and sentimental as well. My single "Little Miss Obsessive" has a pop-rock kind of sound. There's a bit of a mixture in the whole thing.
SheKnows: "Outta My Head" was such a dance floor anthem, someplace you're not normally associated with, and I know you've hit some clubs across the country promoting it. What was that like for you, seeing the song you created to make people dance in the very forum you wanted people to hear it?

Ashlee Simpson: It was a great experience. I'm not a big club girl (laughs). It was funny to be in clubs every night. It was cool to see people react to it. I didn't know if these people would be into it or not. It was great to see the audience accept it and really like it.
SheKnows: You are known as someone who has great style and is always experimenting with it. Personally, I think you are right up there with Madonna in being able to effortlessly change your look without sacrificing yourself.

Ashlee Simpson: Oh my God, thank you.

SheKnows: Is that an important thing for you? That everything we see is really, truly you?

Ashlee Simpson: Definitely! I won't wear something unless it is me, and I feel comfortable in it. Whether I want my hair to be red, which is something that a lot of thought goes into because I'll just do it that day, and it will reflect exactly how I am expressing myself at that moment. The red hair, to me, is a little bit quirky. It just kind of fits me.
SheKnows: And that's the reason why you resonate with so many of our readers. You get an urge to change your look, and you just go with it. It's not that some stylist told you to. It's just what feels right.

Ashlee Simpson: Oh yeah, definitely. I don't ever have a stylist. I keep [magazine] tears of where I want to go with my look and what I want to do. I've got tons of little 'think books' together of different looks. But, honestly, when I have events, I have people that do my hair and stuff. But I'm telling them, 'This is what I want you to do.' It all comes from me.
SheKnows: You spoke of the Neptunes and Timbaland -- talk about two people with the Midas touch. What were those moments in the studio like for you with those two?

Ashlee Simpson: It was amazing. Chad Hugo, from the Neptunes, is like a mad scientist in there (laughs). That was great to be a part of and to work with him -- same with Timbaland and his whole camp. He has himself surrounded with great people.
SheKnows: Watching these greats at work, is there any urge to produce your own tracks in the future?

Ashlee Simpson: Well, you never know. I would like to do that one day in the future. I'll produce my vocals, not the track. I'll leave that to the masters.
SheKnows: Took the words right out of my mouth.
(Ashlee laughs)
SheKnows: I wanted to ask about the track, "Hot Stuff," I think it is another one that is going to resonate with our readers at SheKnows. Why that song at this time in your life?

Ashlee Simpson: "Hot Stuff" is meant to be a fun song. That's it. A lot of things on the record are laughing at situations, poking fun at things (laughs). With that, when you go somewhere and girls give you the mean eye. You're like, 'oh, wow – this is crazy.' "Hot Stuff" makes fun of that. That song is meant to be a good time.
SheKnows: Now, is it the person saying it -- 'Hot Stuff' -- or the person giving the look who thinks they're the hot stuff?

Ashlee Simpson: You think you're hot stuff. It's kind of you looking back at the girl giving the look saying to her, 'Look, I know I'm hot stuff.' You know, you're in your tennis shoes. I don't care. You're hot stuff!
Hey - come get more on Ashlee!