You Can Win A Date With The Handsome Skier
Do you want to date an Olympian? Bronze medalist Nick Goepper is looking for a date. Here's how to enter the contest.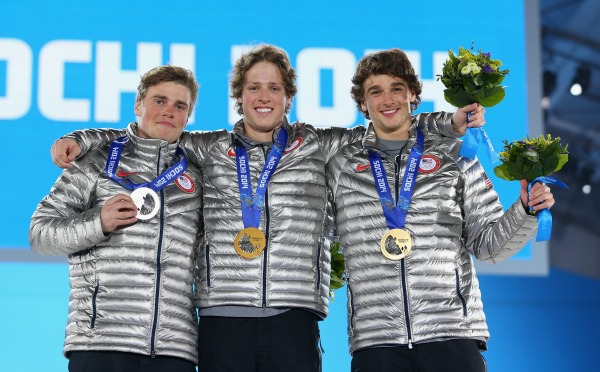 Photo credit: Getty Images
Olympian Nick Goepper has had a pretty good week in Sochi. Not only did he win a bronze medal for slopestyle skiing at the Winter Games, he's also had thousands of ladies looking for a date with him.
The 19-year-old is officially looking for love this Valentine's Day. He posted a quest on his Twitter page, "Nick needs a Valentine. Most creative invitation gets to fly out and go on a Dream Date with Nick. One lucky girl gets announced after the Olympics. Use Twitter, Facebook, and Instagram to enter #iwanttodatenick."
Have fun with this and get creative! Looking forward to spending a day with someone awesome! http://t.co/yKwUXrMSj3 pic.twitter.com/bQ1euqNmGZ

— Nick Goepper (@NickGoepper) February 14, 2014
The ladies have already started to line up by sending their best photos to the skier.
We're soaring, flying. There's not a star in heaven that we can't reach! @NickGoepper #iwanttodatenick pick me &.... pic.twitter.com/h4R8TROzYn

— Talia Saraf (@TaliaSaraf) February 14, 2014
My perfect date is June 6th- my senior prom #iwanttodatenick #nickbemyvalentine @NickGoepper pic.twitter.com/cQWyEOOzpu

— Rachel Weil (@rachweil) February 14, 2014
Goepper talked to Us Weekly about his quest for love. "I just want them to fall in love. Love is the most powerful emotion out there. This is kind of like a try out. They post something creative and something to catch my attention."
He will fly the winner out to his training location, and they can see if Cupid worked his magic. The Olympian also shared what he was looking for in a relationship. "[I'm looking for a] super fun, easy relationship. I'm just gonna surprise them. Dinner and maybe a sleigh ride. Maybe some skiing. We'll see."
In the meantime, Goepper is pretty smooth when it comes to his pick-up lines.
"Ya hah-chi loob vee" I'm looking for love- in Russian

— Nick Goepper (@NickGoepper) February 14, 2014