Ke$Ha's Message To Fans
Ke$ha released a special message to fans from rehab saying that she will be back — and she will be better than ever!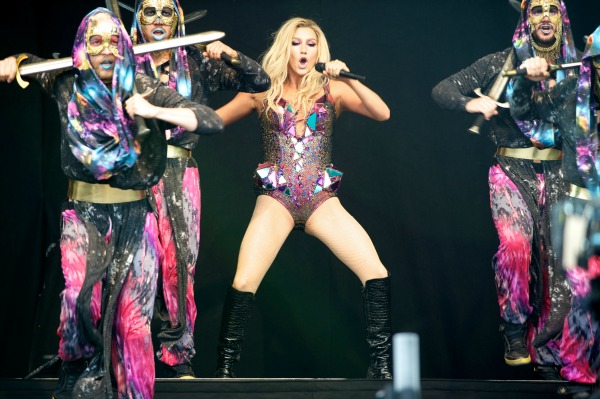 Ke$ha has broken her silence for the first time since her announcement that she would be entering a treatment center for an eating disorder — and she wants worried fans to know she is on track for a spectacular recovery.
The pop star released a message to fans on Twitter via a friend and said we can expect more of her antics sooner rather than later.
This is Kesha's friend. She asked me to tweet an update for her because she doesn't have access to twitter right now

— ke$ha (@keshasuxx) January 21, 2014
she says "THANK YOU. SOOO MUCH. I'm overwhelmed to tears by all of the love, letters, and support!! I'll be back soon and better than ever

— ke$ha (@keshasuxx) January 21, 2014
ohhh and she can't believe Timber is still number one! "Fck YEAH animals! PARTY ON!!!!"

— ke$ha (@keshasuxx) January 21, 2014
Hey guys this is K's friend again. She's doing well and needs more of your teeth to make art with at the treatment center. She misses you :)

— ke$ha (@keshasuxx) January 22, 2014
The "Dirty Love" singer checked into rehab at the beginning of January, saying she was holing up for 30 days "…to learn to love myself again. Exactly as I am."
Ke$ha's mother, Pebe Sebert, blamed the star's troubles on the pressure from industry masters to look like a perfect pop princess. She also has claimed that record producer Dr. Luke told a friend of hers and the singer's that Ke$ha looked like a "refrigerator." She later joined her daughter in the same rehab center for post-traumatic stress disorder, telling People, "This whole Dr. Luke thing has almost torn our family apart and taken over my life, and Ke$ha wants me to heal along with her."
Dr. Luke denied the allegations and said in a statement through his rep, "These statements and allegations concerning Dr. Luke are completely false."
"It is unfortunate that at a time Ke$ha is suffering immensely and trying to heal at a treatment center, her mother is taking this approach with the media. I give Ke$ha my utmost support and well wishes for a quick return to health."
Image courtesy WENN.com
Read more Ke$ha
VIDEO: In defense of Ke$ha's NSFW "Dirty Love"
The crazy things to expect from Ke$ha's My Crazy Beautiful Life
VIDEO: Ke$ha teaches the Westboro Baptist Church a lesson