Love In 140 Characters (Or Less)
When it comes to love, celebrities are loud and proud. Don't believe us? Just check out these sweet tweets exchanged by some of Hollywood's sappiest stars.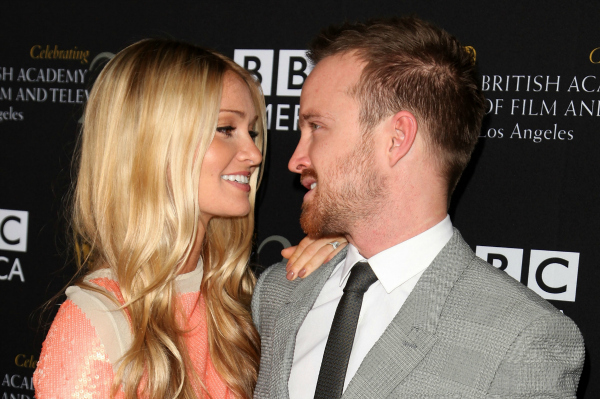 Ever since Aaron Paul met Lauren Parsekian, he's been crowing about his "pretty bird." It's adorable, and we can't get enough. As such, in full disclosure, you'll see his name again on this list.
Happy Bday @cash_warren u bring love n light to our life everyday! Honor & Haven r so lucky 2 have u as there dadda! smooch!

— Jessica Alba (@jessicaalba) January 11, 2012
Jessica Alba and Cash Warren are one of those Hollywood couples who seem so genuinely in love and so above all the drama. Don't you think they'd be the best double-date couple?
Happy Valentines Day to my one and only @jessicaalba ... So lucky to have you as my partner in crime

— Cash Warren (@CashWarren) February 14, 2012
It's clear Alba and Warren have a mutually affectionate relationship — even after two kids! One thing's for sure: They're setting a great example for their sweet girls, Honor and Haven.
My wife @MariahCarey has been my hero through this whole process. Definition of an Angel!

— Nick Cannon (@NickCannon) January 15, 2012
We'll be the first to admit we had our doubts when Nick Cannon and Mariah Carey got married. But the couple really leaned on each other during Cannon's health issues, making believers out of us.
I love my wife. She's the most inspiring, talented, smart, and beautiful woman. I'm a very lucky man.

— Paul McDonald (@thePaulMcDonald) May 22, 2012
American Idol alum Paul McDonald is cute, cute, cute — and it looks like he's also a big softy. He often showers his wife, Twilight actress Nikki Reed, with sweet little nothings like this.
"@CLMazza: So proud of you today baby. @MarioLopezExtra #luckygirl"I'm the lucky one baby! Te queiro mucho mi amor

— Mario Lopez (@MarioLopezExtra) January 18, 2012
Since meeting Broadway dancer Courtney Mazza in the fall of 2008, Mario Lopez has become quite the romantic. He can't stop singing the praises of the mother of his precious babies, Gia and Dominic.
#FF @BillRancic Devoting this one to my hubby and the love of my life:) Follow him for great tips on money, business & inspiring quotes! RT

— Giuliana Rancic (@GiulianaRancic) October 12, 2012
What can we say? We're about as smitten with Giuliana and Bill Rancic as the two are with each other — and we all know that's a lot.
Me and katie just celebrated our 4th year anniversary and my bride looks even more beautiful now than ever!!!! What a night. Happy holidays!

— Josh Kelley (@JoshBkelley) December 24, 2011
First of all, if you haven't been listening to Josh Kelley's music, go forth and get some. Second, how adorable is this tweet to Katherine Heigl? We can only imagine the night ended in sweet music.
Today I share my Birthday with my heart & my best friend, @NickSLachey. Thank U for giving me the most Beautiful gift! pic.twitter.com/QqHFVTT7

— Vanessa Lachey (@VanessaLachey) November 10, 2012
How great is it that Vanessa Minnillo and Nick Lachey found each other? The down-to-earth actress, who took her hubby's last name when they married, obviously adores her boys.
The two loves of my life. #family http://t.co/lHOQKQjB

— Nick Lachey (@NickLachey) January 6, 2013
Seriously, they're so cute.
Happy anniversary to my beautiful wife who i love so much. 6 amazing years and you havent killed me yet. Ill love you forever.

— Carey Hart (@hartluck) January 7, 2012
What a crazy ride it has been over the years for Carey Hart and Pink! But hey, they always found their way back to each other, and now they have a beautiful family and a murder-free marriage to show for it.
@hartluck yes:) I haven't killed you yet;) but give it time darling. It's happening slowly haha. I love you honey cakes. Happy 6 or 10 or...

— P!nk (@Pink) January 7, 2012
She may look tough, but Pink has a real soft spot for her hubby. Shortly after their wedding, she admitted she became traditional and emotional, which was a weird experience for her and Hart.
ur just as sweet as peaches and cream...u must've stepped right out of my dreams

— Wiz Khalifa (@wizkhalifa) January 17, 2011
Wiz Khalifa doesn't just lavish praises on his lady love, Amber Rose — he raps them!
Happy birthday to the most incredible woman I've ever met. Love, our three cats, two dogs, two cows and me.

— Ellen DeGeneres (@TheEllenShow) January 31, 2013
Ellen is funny, she's smart, she's sweet, she's funny (so true we had to say it twice) and she is head over heels in love with her wife, Portia de Rossi.
Twenty years ago today, I married the love of my life and my best friend. Happy anniversary, Michelle. -bo

— Barack Obama (@BarackObama) October 3, 2012
Pay attention, fellas! If the POTUS can find time to say how much he loves and adores his wife, you can certainly muster up some heartfelt sentiments for your girl.
http://twitpic.com/4rp8y Here is my David. Sweet face, no? Just as sweet on the inside... Goodnight. Until we tweet again...

— Alyssa Milano (@Alyssa_Milano) May 8, 2009
We don't care what Jay Mohr says — Alyssa Milano is gorgeous. Clearly, the look of love suits her, as evidenced by this glowing pic of her and her husband, David Bugliari.
It's been 12 months since I told someone how much I loved them. I'm forever thankful they chose me. Happy Anniversary @evanrachelwood XXX

— Jamie Bell (@1jamiebell) October 30, 2013
A far cry from Evan Rachel Wood's ex, Marilyn Manson, Jamie Bell not only doesn't creep us out, but he actually makes us swoon with his sweet words to his lovely wife.
Happy anniversary @1jamiebell! You are the best husband and father anyone could ask for. Here is to many more adventures ahead. I love you x

— Evan Rachel Wood (@evanrachelwood) October 30, 2013
There was a time when we questioned whether Evan Rachel Wood would ever settle down. We think she seems the happiest we've ever seen her now that she's married to Bell.
I miss @Laurencorinne8 like you would not believe. She is the most incredible person I have ever known. Thank you for your heart.

— Aaron Paul (@aaronpaul_8) March 29, 2012
Told you that we'd be seeing him again! C'mon... how could we not? We're pretty positive he is, hands down, the sweetest, most in-touch-with-his-emotional-side guy in Hollywood.
Happy birthday my sweet little babe! You are the best thing that has ever been born @aaronpaul_8 I <3 you pic.twitter.com/3dIJqDEz

— Lauren Paul (@Laurencorinne8) August 27, 2012
Such a wonderful husband deserves a wonderful wife, no? Aaron Paul picked the right one when he married Lauren Parsekian. The Breaking Bad star's wife seems like a total keeper.
Photo credit: WENN.com