Take A Look At Some Of The Memes
JLaw might be the coolest girl in Hollywood. She wins a second Golden Globe Award and inspires a hilarious meme.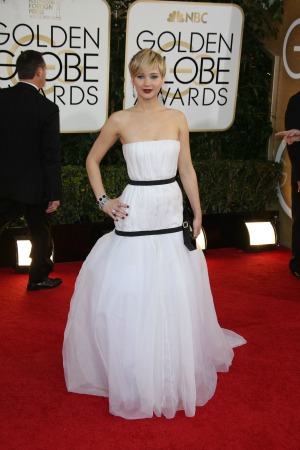 Jennifer Lawrence is one of those A-list actresses that every fashion house wants to dress. Her Dior gown last night was simple, classic and white with two small, black horizontal accents. It also inspired memes all over the internet.
Many people began constructing their own designer-inspired gowns and shared them on Instagram and Twitter. Not only did humans participate, a few animals got into the act to show off their Golden Globes best.
Take a look at some of the homemade fashions that had everyone buzzing on social media:
Arrow star Colton Haynes got into the Golden Globes spirit with his comforter and black belts adorning his muscular body. He even mimicked Lawrence's photobomb face from crashing Taylor Swift's interview with Ryan Seacrest on the red carpet.
A fake account for Lana Del Rey also featured a JLaw dress knockoff. Those down comforters are getting a lot of use today.
Omg me and Jennifer Lawrence have the same dress pic.twitter.com/Qu35pHBCd4

— Lana Del Rey (@LanaDelRny) January 13, 2014
How about using your favorite furry friend to showcase red carpet fashions? A Puggle was used to show off his trim figure in puppy couture.
LV loves J-Law so much, she had @elspethjane make her a dress. #JenniferLawrenceDress @BuzzFeed pic.twitter.com/TsDGqLSJOU

— Christie Marchese (@ChristieM) January 13, 2014
Of course, cats can't be left out of Hollywood's glamorous set, so one little kitty wore a washcloth and some string. The cat looks a little upset that he had to participate in such shenanigans.
O Link gostou tanto do look da Jennifer Lawrence no #GoldenGlobes que resolveu imitar pic.twitter.com/QMgEM9SOD3

— Gui Moraes (@guiimooraes) January 13, 2014
However, MTV might win the meme comparison by placing the 23-year-old's photo next to Ariel from The Little Mermaid. It seems like they have the same taste in fashion.
Basically. http://t.co/V439d1TFah pic.twitter.com/haJPk3hVRV

— MTV (@MTV) January 13, 2014
While these were all done in jest, it's Lawrence who comes out the big winner. She took home a second Golden Globe for her role in American Hustle.
Photo credit: WENN.com