Documenting Her Journey
The Little Couple's Jen Arnold is documenting her journey through treatment of a rare form of cancer. Two days after Christmas, she tweeted a photo of her chemotherapy.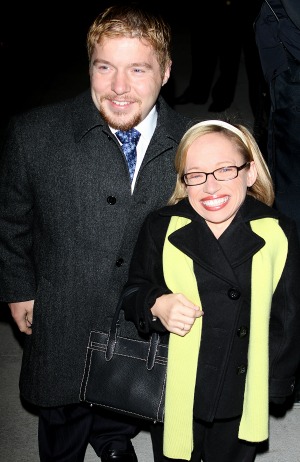 Dr. Jen Arnold is battling a rare cancer, and spent her holiday week in the hospital beginning the fight of her life. Arnold tweeted a photo of herself in the hospital on Friday, Dec. 27.
The Little Couple star revealed she had cancer earlier in December, but said she's planning to fight it head-on.
"I have recently been diagnosed with a rare type of cancer and am currently undergoing treatment, including surgery and chemotherapy," Arnold told People. "I am very fortunate as the prognosis is good. While there is never a good time to get news like this, getting it just as we are building our new family is tough in many ways. But being surrounded by the love of my husband and our two beautiful children is actually in many ways giving me the strength to fight it even stronger."
The photo revealed a lot about what she's going through.
Day2 inpatient chemo- sleeping alot, liking new anti nausea med this time, & looking to get home today! #GetWellJen pic.twitter.com/QGeBS4ZyEs

— Jennifer Arnold, MD (@JenArnoldMD) December 27, 2013
The 39-year-old and her husband Bill Klein have two children, 3-year-old Will and 2-year-old Zoey. Her chemotherapy had been postponed because of "low blood counts." But she said it ended up being a happy delay, because it made for "a better Xmas."
She said she baked cookies, and enjoyed Christmas with her family.
Cancelled chemo= feeling better for holiday= energy for baking Christmas cookies with kids & @ReallyBillKlein- Life doesn't get much better!

— Jennifer Arnold, MD (@JenArnoldMD) December 23, 2013
1st attempt @ Christmas cookies-can u tell what shape they were b/c I can't! #BakingOpps! @reallybillklein pic.twitter.com/frYzqhYD76

— Jennifer Arnold, MD (@JenArnoldMD) December 23, 2013
The couple has struggled with infertility, something they went through publicly on their show The Little Couple. But they feel blessed with their adopted children, and the family they have made.
Klein also tweeted about his wife's cancer and how they're fighting it together.
My darling wife released today that she is currently battling a form of cancer. Prayers are welcome, hugs are not due to her weakened state

— Bill Klein (@ReallyBillKlein) December 6, 2013
Thanks to everyone for your continued support. We appreciate everyone's generous well wishes and prayers. We will fight and we will win!

— Bill Klein (@ReallyBillKlein) December 6, 2013
"For a lot of people, loss tears them apart," Arnold said. "In general, we are pretty tough people. I feel very lucky and fortunate to have the wonderful life I have. We are good at putting things in perspective because of our life experiences. I am not a person to give up when something is important. We feel so lucky to be parents."
As for her cancer, she is fighting and plans to do everything she can to beat it.
"There are moments I feel just terrible," Arnold told People earlier in December. "I can't believe it is happening. Other times, I feel like this is just a bump in the road."
Photo credit: WENN.com